University of Sussex Email
Email for students
In 2015 we introduced a new email system for students. The new service includes a brand new webmail interface based on Outlook.com and accounts were transferred during the summer vacation.
Service checker
Enter your IT username (e.g. ano23) to see which service you're currently using.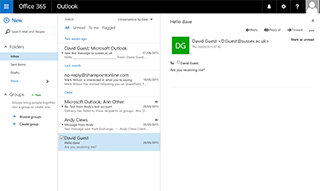 Student email system
Undergraduates and taught postgraduates were transferred to a new email service in 2015/16 with messages stored on Microsoft's systems. The webmail in the new service is based on Outlook.com and users should see a number of improvements over the previous system.
---
Stay connected
Log on to webmail
You will always be able to get to your email using the webmail login. You will automatically be directed to the new service after your account has been transferred.
Sussex mobile app
You will see your email as normal before, during and after the transfer.
Settings for other programs
You can also connect other programs, such as the email app on your phone using these new settings.
Email on your phone
If you use the email program on your phone, you will need to update the account settings once your mail has been transferred.
Internet Explorer
If you use Internet Explorer, you may see an additional login box. Select Use another account, then log in with your username followed by @sussex.ac.uk and your password.