University of chester art therapy
Art Therapy
     The course aims to enable you to gain the highest level of knowledge, skills and behaviour that will establish you at the forefront of art therapy within a contemporary setting.
The MA in Art Therapy aims to develop practitioners in the use of art as a therapeutic process. It has a strong practical component, in that students gain theoretical knowledge in the classroom setting and undertake experiential learning through working within a placement (or placements) setting. This experiential component will amount to a total of 120 days of practice. Students on the course will be expected to engage with personal process work, through the use of art, and undertake personal supervision sessions to facilitate their learning. Completion of the MA in Art Therapy will allow the individual to register with the Allied Health Professions Council, which will then entitle them to use the protected title of `Art Therapist´
University of chester art therapy
Art Therapy Foundation Week 2017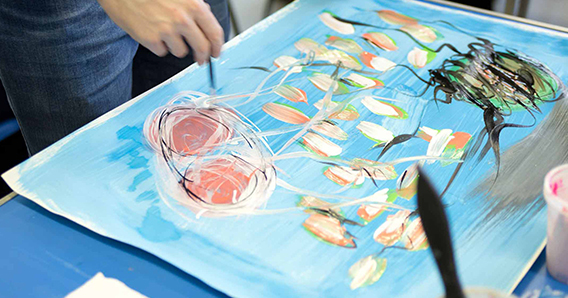 £395.00
Art Therapy Foundation Week
18th – 22nd September 2017
Monday – Thursday 10am – 5pm and Friday 10am – 4:30pm
Riverside Campus, Castle Drive, Chester, CH1 1SL
Attendance priced at £395 (refreshments included)
This course is intended for people who may consider art therapy as a career, and want to train as an art therapist. The course will include art therapy experiential workshops. No previous formal experience of art therapy is required, but it is important to be prepared to take part in art making.
For further information please contact Jennifer Plank: arttherapy@chester.ac.uk
To proceed to book online please complete the form below then click "add to cart".
University of chester art therapy
A maturity of personality and self-awareness compatible with training as a therapist. An undergraduate degree in art and design or other relevant subject. A portfolio of recent artwork (at interview). The portfolio should demonstrate the applicant's exploration of self through the art making process. A minimum of one years' experience working within a care setting with clients relevant to the course. This can be paid or voluntary work. English Language Requirements Level 7. Students will be expected to have access to personal therapy during the course, which is self-funded.