University Of Bristol Admissions
Undergraduate Admissions
The Undergraduate Admissions team acts as a central enquiry point for prospective students who have applied, or are thinking of applying, for an undergraduate degree at the University of Bristol.
This team is responsible for making selection decisions on undergraduate applications, for inviting applicants to interviews and visit days, for developing the admissions policy framework, for managing the University's admissions systems and procedures, for producing management information, and for liaising with UCAS.
They process over 43,000 applications annually and provide support and advice to applicants and staff on all matters relating to undergraduate admissions.
For information about applying to study at the University of Bristol please see the Study at Bristol web pages.
Undergraduate Admissions Office
Howard House
Queens Avenue
Bristol
BS8 1SN
Telephone: +44 (0) 117 39 41649
Email: choosebristol-ug@bristol.ac.uk
Postgraduate Admissions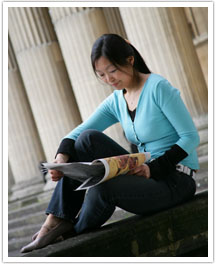 The Postgraduate Admissions team supports the postgraduate admissions process across the University, working closely with Faculty Offices and departments, which have responsibility for application processing. Responsibilities include:
working with Faculty Offices and departments to co-ordinate elements of the PG admissions process that happen University-wide, and develop supporting policies and procedures;
providing advice to staff on areas of the admissions process such as fee status assessments and admissions policies;
facilitating the sharing of information and good practice through events such as the Postgraduate Forum;
working closely with the International Recruitment Office, which has responsibility for recruitment of international postgraduate students.
The office has also worked with colleagues across the university to implement the online admissions system, Apply Yourself, which accepts online applications to almost all of our postgraduate programme.
Information for University Staff
Prospective applicants
If you are a prospective applicant and you are interested in postgraduate study opportunities at Bristol please take a look at our online postgraduate prospectus which contains all the information, links and contacts prospective applicants will need to make the right choice for their studies. Alternatively, for further assistance you can email us at pg-admissions@bristol.ac.uk