University of Brighton Research Strategy
I'm delighted to present the University of Brighton's five-year strategy for the period 2016–2021.
With the involvement of the whole university community in its development, this strategy sets out our objectives for the coming five years. Our strategy is about realising potential and shaping futures. We will focus on enhancing the quality of all we do, investing in our future and above all enabling the talents of our students and staff to realise our shared ambitions.
The University of Brighton is a great university with a dedicated, diverse and passionate community of students, staff and alumni. We take pride in making a significant impact in our local community and reaching out globally, based on our strong commitment to partnership working.
At the time of writing the country and the education sector is responding to a very specific set of economic, social and political challenges. I'm confident we have the talent and flexibility to enable us to continue to evolve. If we can live the values underpinning our strategy – inclusivity, sustainability, creativity and partnership – then we are well equipped to flourish and to deal with what lies ahead.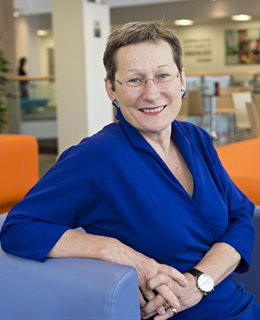 Professor Debra Humphris
Vice-Chancellor
This short film, narrated by prize-winning journalist, presenter, equality campaigner and alumnus Paris Lees, introduces our new university strategy.