The Open University Careers
The Open University Careers, Identifying the right career, course or training route, often called the 'career planning process', helps you focus on what you should do when you start a new career, change your career or progress in your current career. The process can be divided into four parts.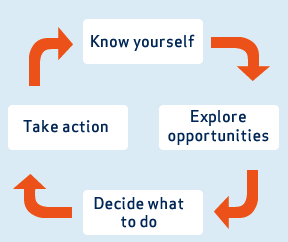 Know yourself: ask yourself 'Where am I now?'and 'Where do I want to get to?', 'How do I get there?' Think about what you enjoy, your interests and skills, and what challenges you. Define your goals.
Explore opportunities: is there a market for your skills and interests? Are your plans realistic? Look at what training and qualifications you'll need and where vacancies are advertised.
Decide what to do: plan how you will reach your goal. Perhaps gain experience at a lower level or voluntary capacity first to 'build' your career. Be realistic in your expectations.
Take action: gain some work experience, make networks, familiarise yourself with the general and graduate job market, research job opportunities, both online and traditional press.
Identify suitable careers linked to your work related skills and interests by using Adult Directions, an online careers assessment tool. The occupational information in this resource focuses mainly on opportunities in England and Wales. You will need your OU computer username and password to access this tool.
Careers and Professional Development
The OUBS career service
OUBS careers support doesn't stop when you graduate – in fact, you can access expertise and specialist services throughout your career. We offer:
discounted access to career coaching, including CV specialists and a career assessment programme
free monthly webinars and a webinar archive, covering career support and progression topics such as CVs, personal marketing, networking and interview techniques
an online 'career maximiser' programme
competency-based interview training
free access to the Going Global database of worldwide vacancies, career and employment information
a bank of articles, industry knowledge and insights generated by alumni to support their peers – and to which you can contribute
MBA recruitment guides, designed as a starting point for your job search.