Staffordshire University Careers
Staffordshire University Careers
Careers Network
#FutureFest2017
FutureFest2017 is nearly upon us!
A week of employability events, fairs, networking opportunities, talks and workshops on all things employability.  Also incorporates global entrepreneurship week.
Some students wait for opportunities. Ours make their own.
If you want to go far in life, you don't have to go far at all. The Careers Network gets you going places.We'll do everything to help you not just onto the careers ladder, but up it too. Everything from CV building, interview training and assessment tools, to work shadowing opportunities and the chance to get work experience and temporary jobs from our recruitment and employment agency, UniTemps.
The Careers Network also grants you access to the Employability Fund. A helping hand towards things like travel to interviews for up to six months after you graduate.
Talk to us in person on campus:
Cadman Building (Thompson Library), College Road, Stoke-on-Trent, ST4 2DE
Call us on 01782 294991, or email careersnetwork@staffs.ac.uk
Find out how to Meet the Team.
Jobs & Opportunities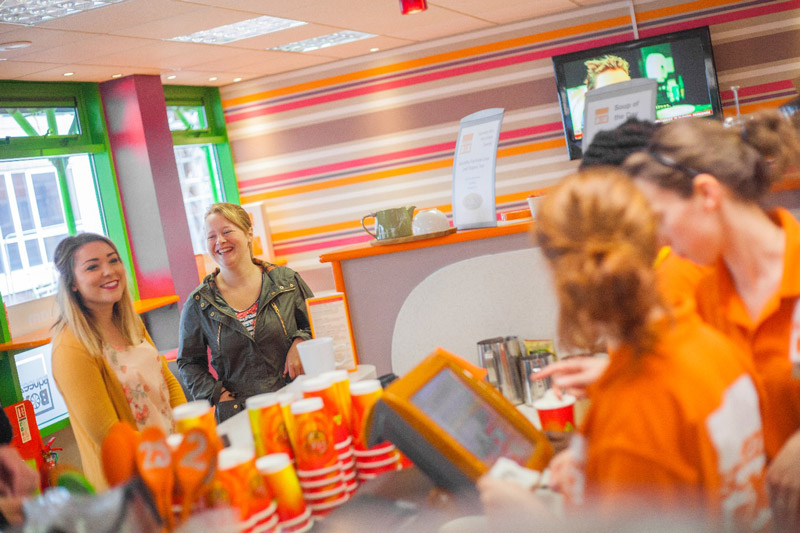 Welcome to Staffordshire University Students' Union staffing homepage, below you will see links to our current vacancies and the supporting paperwork for making your application.
Also, check out Volunteering, become a Union Officer, or visit the University's Careers Network for other part-time and vacation work for students.
Core Staff Team Vacancies
Thank you for your interest in working for Staffordshire University Students' Union. At present we have a full complement of staff so are not currently recruiting, but please check back on a regular basis.
Continuous Recruitment Vacancies
We're always looking for excellent team players to join our friendly and diverse Union Team, so we regularly run Assessment Centres for our roles throughout the Academic Year. If you think you'd be interested in joining our team, take a look at our Union Team Member information pages below and express your interest by joining our mailing lists – this way, you'll be the first to know when our roles become available.
Our Job Opportunities
Our current job opportunities are listed in closing date order with the most recent vacancies at the top.  Just click on the vacancy you are interested in to find out more information and how to apply.
If you wish to be made aware of other suitable opportunities that are advertised in your area of expertise in the future, please use our jobs by email service .
CDT16-30 – Lecturer in Computer Games Programming
Closing Date: 10 December 2017
BLE17-03 – Lecturer in Business Strategy and Managing Organisations
Closing Date: 26 November 2017
CAE17-06RA – Professor or Associate Professor of Electrical Power Systems Engineering
Closing Date: 22 November 2017
BLE17-05 – Lecturer in Esports
Closing Date: 20 November 2017
BLE17-04 – Lecturer in Digital Marketing
Closing Date: 20 November 2017
EPR17-06 – Head of Employer Partnerships and Apprenticeships
Closing Date: 13 November 2017
EPR17-05 – Head of Student and Graduate Employability
Closing Date: 13 November 2017
BLE17-06 – Lecturer in Tourism and Event Management
Closing Date: 12 November 2017
RIISR17-03 – Research Development and Funding Manager
Closing Date: 10 November 2017
RIISR17-04 – Research Impact Manager
Closing Date: 10 November 2017
LIB17-03 – Customer Services Library Assistant
Closing Date: 10 November 2017
RIISR17-02 – Research Administrator
Closing Date: 10 November 2017
EPR17-04I – Apprenticeship Coordinator
Closing Date: 03 November 2017
ES17-01 – Forecasting & Business Planning Manager
Closing Date: 03 November 2017
LSE16-15 – Lecturer in Physical Education and Sports Coaching
Closing Date: 03 November 2017
LSE16-21 – Senior Lecturer in Education
Closing Date: 03 November 2017
LSE-PRT006RA – Lecturer in Sport and Exercise Psychology
Closing Date: 03 November 2017
SAAS17-01RA – Early Years Educator
Closing Date: 30 October 2017
EPR17-03I – Employer Partnership Development Officer
Closing Date: 30 October 2017
TS16-05RA – Technical Instructor – Games and Visual Effects
Closing Date: 29 October 2017
TS16-10RA – Technical Instructor – Games Programming
Closing Date: 29 October 2017
LPF16-12A – Lecturer or Senior Lecturer in Law
Closing Date: 29 October 2017
LPF16-12B – Lecturer or Senior Lecturer in Law
Closing Date: 29 October 2017
FN17-0302 – Assistant Management Accountant
Closing Date: 27 October 2017
CA17-01 – Dean of Business, Leadership and Economics
Closing Date: 27 October 2017
CA17-02 – Director of Collaborative Academic Partnerships
Closing Date: 27 October 2017
CA17-03 – Registrar
Closing Date: 27 October 2017
CA17-05 – Director of Library and Student Services
Closing Date: 27 October 2017
CA17-06 – Associate Dean Recruitment – Law, Policing and Forensics
Closing Date: 27 October 2017
CA17-07 – Associate Dean Recruitment – Computing and Digital Technologies
Closing Date: 27 October 2017
CA17-08 – Director of Strategic Planning
Closing Date: 27 October 2017
CA17-04 – Director of International Recruitment and Development
Closing Date: 27 October 2017
CONTACT US:
Staffordshire University
College Road
University Quarter
Stoke-on-Trent
Staffordshire ST4 2DE
t: +44 (0)1782 294000