Royal Veterinary College Prospectus
Welcome to the RVC.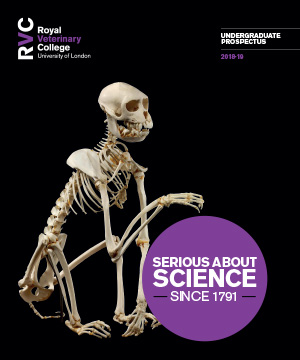 There's nowhere quite like here
"You will receive the best education from the highest qualified specialists, and have the best time getting there."
"The RVC is the oldest veterinary school in the English-speaking world. The creation of the College, in 1791, marked the establishment of the veterinary profession in Britain. Over the centuries it has continued to lead the way in veterinary practice and science.

"Our students have always been at the forefront of our endeavours, just as our graduates are at the forefront of veterinary practice, care and science, and so I am delighted you are considering joining us."
Download the RVC Undergraduate Prospectus 2018-19
See Undergraduate Study for information about the wide range of bioscience and veterinary medicine and nursing courses available from the RVC.