King's College London Summer School
King's College London Summer School
Undergraduate Summer School 2017
The King's College London Undergraduate Summer School is back for 2017. We have a number of exciting university-level modules for students to study in both London and Delhi. Whether you study in India or in the UK, you will have access to King's College London's world-renowned, research-led teaching, whilst also immersing yourself in a culture different to your own.
The Undergraduate Summer School in London will run in two sessions and you can choose to study one or both during the summer. Session One will take place from 26 June to 14 July 2017 and Session Two will run from 17 July to 4 August 2017. There will be a number of different modules on offer, in the areas of Health & Science, Business, Culture, Governance, Law and Ancient Languages. To see the full list of modules on offer in London please see this webpage.
The India Summer School will be taught by King's College London in partnership with Lady Shri Ram College in Delhi. This summer school will run from 29 May to 9 June 2017 and you will have the option to study either International Relations or Marketing Management with International Marketing.
Our applications are now open and you will have until 1st May 2017 (Delhi) or 31st May 2017 (London). If you have any questions about the Undergraduate Summer School, please send us an email, talk to us on live chat or send us a message on Facebook or Twitter. We also have an Instagram account where you can enjoy latest photos of the Summer Programmes Team, King's and London itself. We hope to see you in the summer.
About the Summer Sessions
King's College London is a world-renowned, research-led university, committed to the advancement of knowledge, learning and understanding. As part of this mission, our bespoke Summer Sessions allow academic departments to reach out to new audiences and offer participants the chance to access cutting-edge research within their particular field of interest or occupation.
As a branch of the wider Summer Programmes portfolio, which also includes the Undergraduate Summer School and Pre-University Summer School, Summer Sessions offer learning opportunities for professionals, academics, practitioners and enthusiasts from all over the world. Each programme operates on an individual basis and the content and format are carefully tailored to the specific subject area and audience. However, all programmes offer delegates a range of networking, social and cultural activities, including a welcome event and closing ceremony.
Read about the courses on offer in 2016 here or email us at summer@kcl.ac.uk to register your interest in our programmes.
Summer Short Courses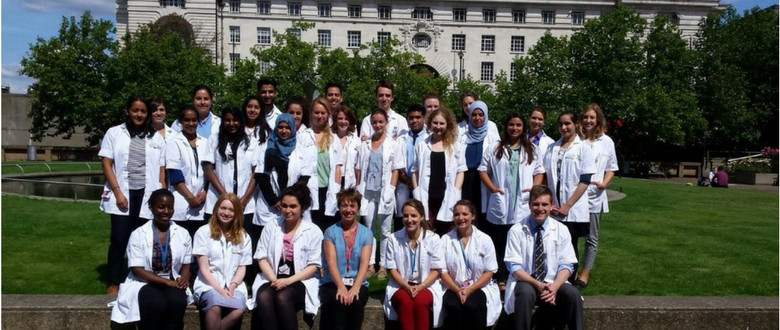 In 2017, our Summer Short Courses fall within the remit of health and science. Although these courses are non-assessed, they offer exposure to the unparalleled experience of King's in clinical research and training.
Summer School in Women's Health and Child Health
17 July to 4 August 2017
The Summer School in Women's Health and Child Health is a three-week course intended to give medical students an opportunity to explore the fields of obstetrics, gynaecology and paediatrics as potential career choices. Through their interactions with consultants, junior doctors, nurses, therapists, specialists and families, students will experience what it is like to work in pioneering health and research centres. The use of simulation facilities enables students to learn important practical skills prior to their clinical attachments in medical school. For more details about the academic content of the course, please take a look at this page.
How much does this course cost?
Tuition: £600 (three-week programme)
Accommodation: £1100 (three-week programme)
There is also a one-off application fee of £40. 
King's current students
Women's Health and Child Health tuition: £600 (three-week programme)
Women's Health tuition: £400 (two-week programme)
Child's Health tuition: £200 (one-week programme)
Accommodation: £1100 (three-week programme) £740 (two-week programme) £370 (one-week programme)
The one-off application fee of £40 will be waived for students who are currently studying at King's College London.
What are the entry requirements?
Applicants should be current medical students who have completed at least one year of medical study by the time they attend the Summer School. 

Application dates and details
We are no longer accepting new applications to the above programmes.
All applications will need to be submitted via the online application portal, King's Apply. Places are offered on a rolling basis so admissions may close earlier due to all places being offered. Early application is strongly encouraged. We recommend you follow the application guidelines to help you submit your application successfully.
Accommodation and Social Programme
If required, accommodation is available for an additional cost. If you would like to book accommodation for the Summer School in Women's Health and Child Health please do so via the estore.
During the programme, students will have the opportunity to join some of the social activities and excursions offered as part of the King's Undergraduate Summer School. All of the activities and excursions are optional and do incur a booking fee or ticket price but are all at reduced/subsidised student prices (compared to standard costs). If you are interested, please visit this page for more information on events and to purchase your tickets.
Who to contact about the programme
For further information about the course content please contact Annelie Mojzis, Teaching Coordinator at the Division of Women's Health, St Thomas' Hospital.
For any questions relating to admissions and applications, please email the Summer Programmes team.