University of Wolverhampton Wifi
University of Wolverhampton Wifi
Wireless Networks
There are Wireless hotspots all over the University – in Learning Centres and Refectories, so you can work where you want. Staff and students can also print on University printers from any device connected to the wireless network and students can use the Internet from most rooms in University accommodation, using wireless or a wired (UTP) connection. Read more about the networks.
How do I connect?
First make sure that your device has its wireless switched on, and get a list of the networks in your area.
There are two networks for staff and students, and one for visitors. They are:
Connecting to eduroam
This is a network for staff and students in most UK HE and FE institutions, including of course our own. It needs credentials when you connect to it, like a home wireless router. However, instead of a single password for anyone who uses it, it wants your assigned username and password. Not all devices can connect to this sort of network – for example, most games consoles can't. 
The eduroam network requires that you authenticate when you connect, as a home router does. However, in a large organisation it is impractical and insecure for everyone to share a single network password, so eduroam uses your IT account and password, using a system called WPA2-Enterprise authentication. There are different ways of setting it up on different devices.
These are the most common ones:
University managed Windows laptop

The settings required to access eduroam are set automatically, but you must connect the laptop to the wired network at least once to get them installed. To check if this has already happened, click Start, then select Control Panel, followed by Network and Sharing Center, then click on Manage wireless networks. If an entry for eduroam appears in the list, then it is ready for use. If not, contact the IT Service Desk on ext. 2000 (01902 322000).
Non-managed Laptops
eduroam installations are available for Windows, Linux, Mac OS X and Apple iOS devices.
Go to the Eduroam CAT tool page. Click the download your eduroam installer button.
It will ask you to pick the organisation you belong to, so select University of Wolverhampton.
It will show you a list of different types of system. Download and save the installer for your system.
Run the installer. On Linux systems the installer is a script, and you will need to change the properties to make it executable.
When asked for your username and password, type in your University IT email address and your IT account password.
You can now join the eduroam network.
Mobiles and Tablets
Follow these simple steps to connect to eduroam:
Select the eduroam wireless network on your device
For Identity/Username – enter your University IT email address (eg. newuser@wlv.ac.uk)
For Password – enter your IT account password
Click Connect.
Accept the Certificate – check that it is either NAP1 or NAP2.unv.wlv.ac.uk
You should now be connected to the eduroam network.
Issues connecting to eduroam?
If you are having issues connecting to eduroam – you may need to forget the other University wireless networks on your device such as wlvstaff, then try connecting again to eduroam.
If this does not resolve your issue, please log a service desk call by contacting IT Services on extension 2000.
I'm from the University – do I use wolfradiolan or eduroam?
If you can use eduroam then we recommend you do so. The advantages are:
You don't have to use a web browser to log on each time you connect.
Everything you send and receive is encrypted while it travels over the wireless network. If that doesn't seem important, have a look at this article about impersonation on the Internet.
The eduroam network is also available at most other UK Universities and many FE colleges. You can find out more from its home page.
Connecting to wolfradiolan
This is for University staff and students. It is an "open" network, like you might find in a café. Anything can connect to it, but after connecting, you will have to open a web browser and type in your University IT account username and password before you get access to the Internet. 
To connect, double-click the entry on the list of available networks (or tap the entry on a tablet or smartphone). After that you need to log in using your University IT account username and password before you can access most web pages or other content. To do this, open a Web browser and go to your home page.
You will see this screen:
‌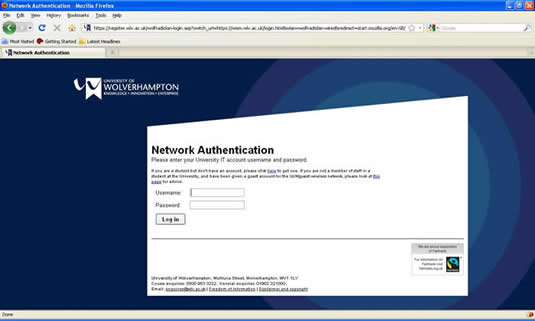 Enter your University IT account username and password and click Log In. You can now access the Internet normally.
Games consoles
Some devices that can use wireless only have a small screen and limited facilities for typing. These include smartphones, tablets, games consoles and the Apple TV. Where possible, it's best to connect them to eduroam, as you only have to enter the credentials once. However, some, notably games consoles, can't connect to eduroam because they don't support WPA2-Enterprise connections.
In these cases you will have to connect them to wolfradiolan as above. But rather than having to log in with a web browser each time, you can register the MAC address of the device. Here are instructions for finding the MAC address of the most common games consoles. Once you have registered the device, you will not need to log in after connecting.
Note:
Xbox One
Students at Wolverhampton Residences can now register Xbox One consoles by taking them to an appointment booked with the Residential Services network adviser.
Those at Walsall Residences can do that when the adviser is available (September to October and January to February), or by contacting the Service Desk with the MAC address and serial number.
Those at Telford will need to contact the Service Desk with those details.
Remember that you are still responsible for any use you make of the device on our network.
GuestUoW – wireless for non-educational visitors
Non-educational visitors can connect their own computer or other device to our guest wireless network, GuestUoW.  This network provides access to the internet only – not to University systems. It is available in all wireless access points across all campuses.Visitors from other educational institutions should connect to the eduroam service, using the username and password issued by their own institution to access the Internet here (remembering to include the institutional suffix).
As of 1 November, 2017, the University has a simpler way for visitors, guests or commercial tenants to get access to the Internet. The previous system required a member of University staff to create an account and pass on the detail to the visitor, whereas now a visitor can just connect to the network and register online.
Connecting to GuestUoW
 Quick Overview
Each guest must follow these steps on their device in order to gain access to the Guest wireless network:

1)      Connect your device to GuestUoW from the list of available networks. (Be sure to select GuestUoW and NOT UoWguest).
2)     Open a web browser and go to https://wlvcp.luns.net.uk. You can also go to http://www.example.com or any other non-https: website, which will redirect your browser provided you have connected to the right network.
3)      Read and accept the Guest Network Ts & Cs (PDF 145K, Downloads file)
4)      Either,  log in with your Google or Facebook account
Or proved an email address. (Be sure to give the address of an account you can access from your device). You will be granted access to the network for 5 minutes in order to receive and access a confirmation email.  Open the email and click on the registration link.
5)     You'll now have automatic access for 3 days. After this time you'll need to repeat the registration process.
If you experience problems, please contact the IT Service Desk on 01902 32 2000 (ext. 2000).
Detailed Instructions
For a detailed guide and more information, view the Guest Wi-Fi Network user guide (PDF 342K, Downloads file)‌. This guide can be downloaded and sent on to guests to follow upon arrival.
What are the other networks?
There are also two other networks available in most parts of the University:
wlvstaff
This is for University-owned laptops. It gives them the same access to University services as desktop systems connected to the University wired network. Non-University devices can connect, but will get the same experience as if they used eduroam. For most people the main difference will be that My Documents is not your University Personal Storage.
wlvphone
This is for University-owned Cisco wireless phones.
It is set up to give them the best service possible, and other devices can't connect to it.
Connecting to wlvstaff
Advice for staff on connecting a University owned laptop to the University wireless network.
The staff wireless network is wlvstaff, which is a secure network that offers access to the same facilities as a secure staff desktop.
To connect to wlvstaff:
We will configure the network for your laptop when it arrives. If that doesn't happen, please contact the IT Service Desk (01902 322000 or internal 2000) with your laptop's ITR number. To find this – right click on My Computer, select Properties, then Computer Name. Once that's done…
Make a wired connection to a staff network outlet in the University (e.g. in your office).
Log in using your University IT  username and password.
Staff cannot connect a University owned laptop to wolfradiolan (the unsecured student network) without intervention from IT Services, so please contact the IT Service Desk on ext. 2000 (external 01902-322000) if you need to do this.
To minimise the risk of problems when switching between the University wired and wireless networks, we recommend you follow the guidelines below.
Before you switch the laptop on, decide whether you will be using the wired or wireless network. If using a wired connection you should ensure that wireless is turned off.  If using a wireless connection you should ensure that the network cable is removed.
Switching from wired to wireless network
Save your work.
Either shutdown the laptop, or set it to stand-by or hibernate.
Disconnect the network cable.
Switch the laptop on.
Logon to the laptop using your standard IT username and password.
Turn wireless on, (there's usually a switch at the side or front with the wireless icon on it, with a light indicating if it is on)
Connect to 'wlvstaff'.
Switching from wireless to wired network
Save your work.
Turn wireless off (there's usually a switch at the side or front with the wireless icon on it, with a light indicating if it is on, OR with the use of the function keys).
Either shutdown the laptop, or set it to stand-by or hibernate.
Connect network cable for the required network.
Switch the laptop on.
Logon to the laptop using your standard IT username and password.
Notes:
Be aware that if you put your laptop into stand-by, you could lose data from any open files if the battery goes before you start it up again.
Putting your laptop into hibernation writes the current state of your files temporarily to disk, so you shouldn't lose any data if the battery goes.
What you need for wireless
A wireless-enabled device. Most laptops and smartphones now have wireless built in. PCs and Macs without wireless can use a USB wireless adapter, available from computer retailers.
Credentials to identify you on the network: a username and password. If you are a member of University staff or a student, you can get an IT account if you don't already have one. If you are a visitor attending a function arranged by our Conferencing Department, they can arrange temporary access. Other visitors should contact the IT Service Desk (01902 322000).
PCs and Macs need anti-virus software and a firewall. Staff and students have some protection from viruses and malware, but you are responsible for your own security.
Current staff and students are entitled to use F-Secure Client Security for Windows (you can get a copy of this free of charge from our download website). For Macs we recommend the free ClamXAV anti-virus software and the firewall built into OSX.