University of Wolverhampton International Office
University of Wolverhampton International Office
If you're looking for multiculturalism and a dynamic urban environment without the London price-tag, then Wolverhampton may be right for you!You could be among the hundreds of international students we welcome each year to the University of Wolverhampton, who join our friendly community in the centre of England, or study our degrees through our partner institutions overseas.There are lots of great reasons to study at the University of Wolverhampton – here are just a few of them:
We're a truly international university – over 2,500 overseas students from more than 100 countries.
Internationally recognised qualifications – the University offers over 250 undergraduate and 120 postgraduate courses, many of which are accredited by professional bodies.
Modern facilities – we've invested around £125m over the last 15 years to ensure that our facilities for students are world class.
Our students are more employable than ever – 96% graduate employability!*
A central location at the hub of the UK transport network: Birmingham 18 mins; Manchester 70 mins; London 98 mins.
We've been commended for our enhancement of student learning opportunities** and awarded for our outstanding student support.***
12 of our courses have received a 100% student satisfaction rating.#
We have five international Regional Offices and Educational Advisors in over 40 countries.
We've continued to expand our global reach, working with institutions around the world to deliver University-approved courses.
Our long and successful history – we've been providing opportunity and academic excellence for over 180 years.
*Destination of Leavers from Higher Education 2014/15.
**Quality Assurance Agency 2015.
***Times Higher Education Awards 2016 winner: Outstanding Support for Students.
#National Student Survey 2016.
Fees and Costs for International Students 2018/19
Fees for non-European Union (EU) students starting a course at the University of Wolverhampton in 2018/19. Please note: The tuition fee charged in subsequent years will be subject to an annual inflationary increase.
Fees
Undergraduate full-time courses: £11,700 per academic year
Postgraduate taught full-time courses: £12,700 per academic year
Postgraduate taught full-time courses for Business School: £13,000 per academic year

Sandwich year out (continuing students only): Free
There may be some exceptions to these fees – please check the course finder for the accurate fee for your chosen course.
How to Pay
Find out how to pay and check out discounts you could benefit from: financial support for international study
Deposits
All international students pay a non-refundable deposit of £3,000 (see section 1b of the Fee Liability, Refunds and Debtor Policy link to for terms and conditions). This deposit will be deducted from the relevant tuition fee upon arrival.
For visa country nationals, payment of this deposit will help to demonstrate to the Entry Clearance Officer who will conduct your visa interview that you are a serious applicant with a genuine commitment to the University
Living costs
It is important to carefully consider the financial implications of studyng in the United Kingdom. In additional to paying tuition fees, you will need to cover your living expenses, including accommodation, food, heating, travel, books and stationary.
The UK Border Agency requires you to have a minimum amount of savings in your bank account before it will issue you with a student visa to enable you to study in the UK.
For advice and support on tuition fee queries for International Students please contact the Financial and International Support Team at the MX Student Centre or email internationalsupport@wlv.ac.uk.
English Courses at the International Academy
At the International Academy, based at our Telford Innovation Campus, you can choose to study from a range of tailor-made English language classes and courses to help you prepare for study at the University of Wolverhampton. We also offer short courses in several modern and community languages, as well as training for teachers of English.Discover what you could be studying with us.
English Language Courses
 English language courses
Preparing for Study
Preparing for study
If you don't have the right academic qualifications to go straight onto a degree or Masters programme, you can study one of our preparation courses to get you ready for starting at the University. Find out more: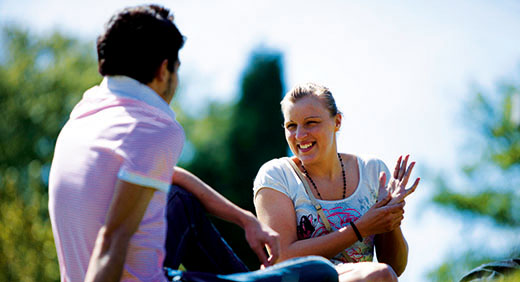 Teach English
Teach English
Modern and Community Language
Modern and Community Language
We have training courses for English teachers from around the world – whether you want to get going in the profession or top-up your skills.
Studying a language opens up a whole new world to you. You can travel and live abroad, make friends around the globe and experience and understand different cultures in a way that enriches your own life too.
Find out more about our language courses.