University of Wolverhampton Computer Science
University of Wolverhampton Computer Science
BSc (Hons)
Computer Science
Why choose this course?
The course aims to produce software developers who can seamlessly make the transition from University to the international computer industry. This is achieved by providing a thorough grounding in the core principles of computer science and integrating these with computer languages, tools, techniques and methodologies used by computer professionals worldwide.
Our Computer Science course offers you the flexibility to pursue areas of particular interest to you such as web, databases, and networking.
Additionally, we will prepare you with the key skills needed to keep abreast of future developments.
Find out more about our computer science courses by watching the video below featuring staff and students.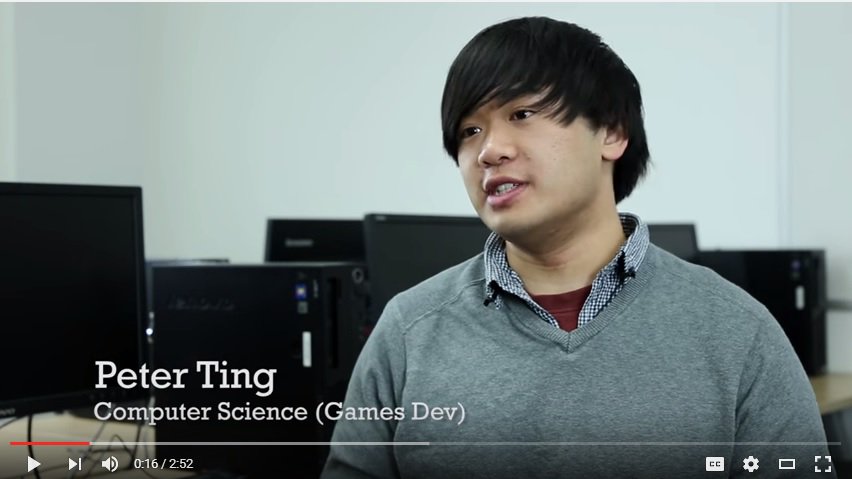 What happens on the course?
Throughout this course you will develop and enhance your skills as a programmer, starting with the essential fundamentals of programming and problem solving. You will learn how to develop software that meets client needs and will have the opportunity to develop a piece of software for your final project.
In addition, you will undertake studies in computer systems engineering and databases. Our course is flexible enough to allow you pursue an area of particular interest to you such as digital media, networks or the internet.
You will also engage in studies focused on developing your academic and employability skills, and you will have ample opportunity to apply your theoretical learning to practical activities.
You will be offered the opportunity to undertake a placement year, where you gain invaluable experience in the workplace before returning to complete your final year. Many students have found this to be a real asset when it comes to finding a job after graduation.
Why Wolverhampton?
You will be taught by a professional team of lecturers who have significant research and industrial experience. Many of our staff are Fellows and Members of the Industry's professional body the British Computer Society.
During this course you will be given the opportunity to undertake a placement year, where you will gain invaluable experience in the workplace, before returning to complete your final year. Many students have found this to be a real asset when it comes to finding a job after graduation.
You will learn how cutting edge technology works and how to take advantage of it. You will recieve hands-on experience with the latest technologies such as programming multicore processors, GPUs and the embedded microprocessor systems that enable mobile computing.
Career path
A Computer Science degree is an internationally respected qualification which can led you into such careers as:
Software Developer
Programmer
Software Tester
Database Administrator
Software Engineer
Our graduates have progressed to careers in a wide range of organisations and institutions across the country, and internationally.
You could also choose to continue your studies at postgraduate level or pursue a career in research.
What skills will you gain?
This course will enable you to demonstrate a knowledge and understanding of the essential facts, concepts, principles, theories and practices relating to Computer Science.
You will learn to apply the appropriate tools and methodologies to the design, implementation and evaluation of software systems on a variety of platforms and environments.
In addition you will be given the opportunity to develop a range of transferable skills in such areas as problem solving, communication, project management, working individually and in teams as well as self management and the ability to gather, synthesise, evaluate and reflect on information from relevant sources.
You will develop a range of personal, organisational and professional skills needed for continuing professional development in Computing in a world wide context.
Who accredits this course?
Accredited by the British Computer Society – The Chartered Institute for IT, for CITP and partial CEng
Entry requirements
2018 Entry
A Level minimum of BB or CDD.
BTEC National Diploma grade MMP, BTEC National Certificate grade DM
BTEC QCF Extended Diploma grade MMP, BTEC QCF Diploma grade DM
Access to HE Diploma full award (Pass of 60 credits – of which a minimum of 45 credits must be at level 3 including 18 at Merit or Distinction).
Applicants will normally be expected to hold GCSE English and Maths at grade C+/4 or equivalent
If you've got other qualifications or relevant experience, please contact The Gateway for further advice before applying.
International entry requirements and application guidance can be found here
Successful completion of the International Foundation Year in Science and Engineering guarantees entry on to this course
Other Requirements
Students must have studied a minimum of two years post GCSE level. However, it is expected that some applicants will be mature students with work experience, who wish to further their career development. These applicants will be processed through standard procedures, which may involve an interview as part of the process. Please see http://wlv.ac.uk/mature for further information.
Those who do not meet the entry requirements may be offered an alternative course.
Course fees and finance
The University also offers a range of Bursaries and Scholarships in addition to other financial support packages
These fees are applicable for new entrants in 2018/9. If you have any queries regarding the fees listed please contact
These fees are for the current academic year only. Any subsequent years may be subject to an annual increase, usually in line with inflation.
# Undergraduate part-time fees for 50% rate of study
Contact us
Telephone
01902 32 22 22
Email
Online
Click link below to visit