University of Wolverhampton Clearing
University of Wolverhampton Clearing
Welcome to the University of Wolverhampton
Your future career starts here, right now. We've got a huge range of full and part time courses designed to get you where you want to be.
And the best thing? You can still start this Autumn!
Grab this opportunity to start your future.
Have any questions about courses? Check out our helpful advice pages, or give us a call.
Clearing Hotline
01902 51 85 85
Clearing
So, you've got your results, they're not what you expected (they could even be better!), and you're not exactly sure what to do next… Welcome to Clearing!
What exactly is Clearing, then? It's easy to forget, in the build-up to and excitement of results day, that Clearing offers an alternative route into getting enrolled on to the course you want.
In short, Clearing helps you find an available place on a suitable course. From July to September each year, once you have your results, you can use Clearing to find out which courses have places remaining.
Your reasons for choosing to go through Clearing may vary, but the end goal is the same: to get that all-important place on a course at the University.
You're eligible for Clearing if:
you have applied for university places through UCAS but have not received any offers
you have not met the grades of your chosen university
you have declined the university places offered to you
you haven't already applied for a place at university
you missed the UCAS application deadline.
Now that's cleared up what Clearing is, how can you use it to get a place at the University of Wolverhampton?
 Click on the tab to visit: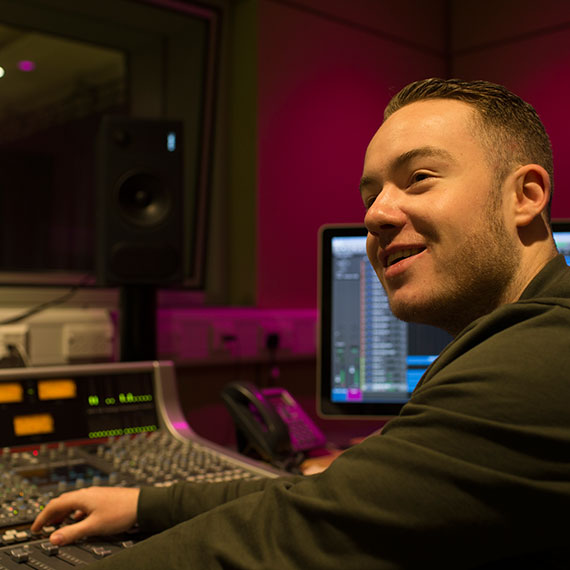 Courses in Clearing
Clearing
Are you thinking about applying to us through Clearing?
You can now apply to us through Clearing by speaking to us on 01902 51 85 85.
What to do on results day
By results day, you may not have received any offers (or none you wanted to accept) or met their conditions, but through Clearing you can find a place on a new course with us.
To apply, simply follow these steps:
Choose the course in Clearing you want to apply for.
Call our free Clearing hotline on 01902 51 85 85 to talk to our advisers.
Have your grades and personal details (address, contact details and date of birth) ready.
We will check availability on the course, discuss further details, and could even make you an offer over the phone!
Alternatively, get in touch on Twitter or Facebook and we can help you with your application via social media.
Were your results better than expected? Congratulations! You'll be applying through Adjustment not Clearing, but follow the same steps above to discuss your options. Find out more about Adjustment.
Clearing Hotline Opening Hours
17-18 August: 7am-7pm
19 August: 9am-5pm
20 August: 10am-3pm
21-22 August: 8am-6pm
23-25 August: 9am-5pm
If we make you an offer and you're in the UCAS system
To accept the place and receive a formal offer, enter the course details on UCAS Track via 'Add Clearing Choice' by the specific date given.
When your application is processed – and you've met any conditions of the offer – you will see an 'Unconditional' offer from us in UCAS track and a confirmation letter.
Remember: you can only add the details for one choice of university.
If you're not already in the UCAS system
Call our Clearing hotline to discuss the course options available.
If you receive an informal offer, you will be emailed an application form.
Fill in and return the form by the given deadline.
If you already hold an offer from us
If you applied and accepted a place with us before Clearing, log on to UCAS Track to check the status of your place.
Confirmed – Congratulations! We look forward to seeing you in September.
Unsuccessful – We are unable to offer you a place this year, but you may wish to reapply next year. If you are unable to get on your chosen full-time course this year, have you considered part-time study? Over a third of our students fit in studies around work and family life via part-time study.
Changed course – We are unable to confirm your place on the course you accepted because you have not met the original conditions, but we are willing to make an alternative offer.
Neither confirmed or unsuccessful – Contact our Clearing hotline for advice: 01902 51 85 85