University of Hertfordshire Transcript
University of Hertfordshire Transcript
Online Transcript Request Enquiry
Description
Requesting your transcripts
If you've lost your transcripts or need a replacement set, don't worry, we can help you.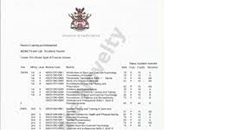 Find the School that you studied in from the table below and click on the link. You will need to complete the form on the UH store website and the School will contact you with the next steps.
If you aren't sure which School you need to contact, email us at alumni@herts.ac.uk and we can point you in the right direction.
There is usually an admin fee charged but the School will tell you about that when they contact you. Also they can take up to two weeks to arrange so please be aware of this when you make your request.