University of Hertfordshire Pharmacy
University of Hertfordshire Pharmacy
Pharmacy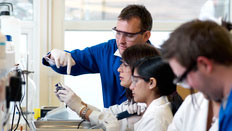 Our emphasis is on developing professional attitudes together with a broad appreciation of different healthcare roles.
Students are actively supported by our academic staff, many of whom are leading professionals in the fields of pharmaceutics and pharmaceutical chemistry. Several are practicing pharmacists, others have first-hand experience of teaching hospital and community pharmacy.
Choose from:
Undergraduate course
Postgraduate courses
Short courses in Pharmacy
The University of Hertfordshire offers a number of courses that are relevant and open to pharmacists. We offer both accredited and non-accredited short courses and modules, and also our MSc Advancing Clinical Pharmacy Practice.
Gender Equality in Science
In the School of Life and Medical Sciences, we firmly believe that promoting gender equality and establishing a fair and inclusive environment for staff and students ultimately results in improving the working and study environment for everyone, both men and women. Find out more about our work with Athena SWAN .
Contact the University of Hertfordshire
University switchboard
tel +44 (0)1707 284000
fax +44 (0)1707 284115
email ask@herts.ac.uk