University of Hertfordshire Famous Alumni
University of Hertfordshire Famous Alumni
Notable alumni
Arts, science and academia
Government, politics and society
Business and finance
Media and entertainment
Sports and athletics
Our alumni
In our profiles section, split into sectors that alumni are working in, you can read about what some of our graduates have gone on to do after leaving Herts.
There are some fantastic and inspiring stories across a range of sectors. Every month we will put the spotlight on someone and show them off.
Spotlight
Kate Briden
LLB, 2000
Director, Royal Courts of Justice Group
Kate's role encompasses overseeing the Court of Appeal, High Court, Central London County Court and the National Probate Service.
'I have a team of 950 staff, and work closely with the senior judiciary and leadership Judges at all levels, to ensure that we provide an effective and efficient system for the administration of justice.'
Read Kate Briden's full profile.
Your Alumni card
Sending for your alumni card and ID number is essential – and simple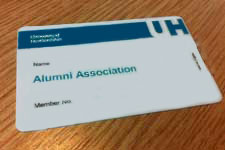 How do I apply for one?
Visit our Card Request page where you can obtain your membership card.  Your card will feature your ID number and a photograph of you.
We can use the same photo you had on your student/staff card (although, if you left the university before 2002, you will need to provide a new picture).
When sending a new photo, make sure it is an up-to-date passport picture, either via email or as a hard copy to our address in the post, marked for the attention of Alumni Cards – Development and Alumni.
Once your request has been submitted, your card will be sent to you in the post. Subject to demand, we will aim to have it sent out to you within 4-6 weeks.
Why do I need an Alumni Card?
The Alumni Card is a direct replacement of the Student card you had whilst studying here.
It is easy to obtain, free of charge, and will enable you to access the privileges and benefits that being part of the alumni community gives you.
The card will contain your alumni registration number, and serve as ID when you are on campus (allowing you access to the Forum etc). It will also allow you to continue using the LRCs, (please refer to the alumni use of LRC guidelines).
Please note, if you request a replacement card you will be charged a £10 administration fee. If you have any queries contact the Alumni office
Data Protection
Visit our Data Protection Page for details of our policy.
Alumni news
We use various ways to keep in touch with you to let you know what's going on at the University.
Futures is your annual alumni magazine – with news stories, features, articles, events coverage and much, much more. The magazine is your portal into the world of the University, helping you to remain very much a part of the community.
E-futures is our email newsletter that we send every two months. It's our way of giving you a more regular take on what's happening on campus and across the wider alumni community.
Click on any of the links to read the latest and back issues of Futures Magazine.