University of Hertfordshire De Havilland
University of Hertfordshire De Havilland
De Havilland Campus
The £120-million de Havilland campus opened in September 2003 and is situated within 15 minutes walk of College Lane, and is built on a former British Aerospace site. This campus also houses its own Learning Resource Centre, a combined library and computer centre. Hertfordshire Sports Village which includes a gym, swimming pool, squash courts is also on this site. The large Weston Auditiorium is present on the de Havilland campus, adjacent to the Learn Resource Centre. The auditorium has a capacity of 450 and can host talks both by university lectures for students and for guest lecturers for guests and students, music and films events and dance events. The campus also contains 11 halls of residence; named after local towns and villages. Ashwell and Welwyn are examples of the buildings with the towns being present in Hertfordshire. The campus is mostly themed around law and business, having its business school located on the campus as well as its law school. A full scale, mocked up court room is present, being available for use for students studying a law degree.
De Havilland
The de Havilland Campus LRC offers a large collection of books and journals, private and group study spaces organised over three floors.
The collections and study areas are all designed to surround the large open-plan main study area, making this quite simply an inspirational place to study.
Facilities
Around 1,300 study seats provide you with a choice of group work, individual and specialist study environments.
In addition to the collections of printed books and journals, this LRC is equipped with more than 600 computers all with integrated access to the internet, studynet, a large range of software, Library Search – the University's library system, e-books, e-journals and online information services, as well as online help and support.
You can also bring your own laptop or other mobile device and use the WiFi or desktop plug-in points.
Information Points offer direct phone access to the Helpdesk as well as online help.
There is also:
self-service printing
photocopying
binding and coursework preparation facilities
specialist facilities including video studios and video conferencing
cafe study
See de Havilland LRC floor guide
Accommodation on de Havilland campus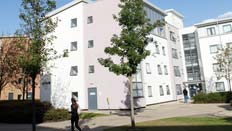 You will find 11 purpose built halls of residence on the de Havilland campus.
The self-contained flats are made up of 11 single study-bedrooms with their own:
en-suite shower room.
fridge.
Wi-Fi and network points.
You will also have access to a spacious, well-equipped kitchen/common room with up-to-date appliances, furniture and equipment of a high standard.
Costs of accommodation
View costs of on campus accommodation. You can also compare costs and room types in our online accommodation portal.
Live next to
Halls A – L are located on the de Havilland campus (PDF – 0.54 Mb) right next to the:
refectory.
Sports Village (where you can try sports including swimming, badminton, climbing, squash, cricket, aerobics, rugby and football).