University of Hertfordshire College Lane
University of Hertfordshire College Lane
College Lane Campus
The main site of the university remains the College Lane campus, which houses the original Hatfield Technical College building. Notable among the buildings in this campus is the university's Learning Resource Centre, a combined library and computer centre. There is also a substantial collection of halls of residence and student houses, and the University of Hertfordshire Students' Union is headquartered at College Lane campus. The College Lane campus is also the location of Hertfordshire International College, which is part of the Navitas group, providing a direct pathway for international students to the University. The Hertfordshire Intensive Care & Emergency Simulation Centre is also located at College Lane. A brand new £40-m state of the art Science Building has recently opened at College Lane. This purpose built facility will primarily offer teaching laboratories, a range of research laboratories and a café.
College Lane
The Learning Resources Centre (LRC) on our College Lane Campus contains everything you need to help you succeed in your studies.
Facilities
More than 1,600 study places provide you with a choice of group work, individual and specialist study environments.
In addition to the collections of printed books and journals, this LRC is equipped with around 600 computers all with integrated access to the internet, studynet, a large range of software, Library Search – the University's library system, e-books, e-journals and online information services, as well as online help and support.
You can also bring your own laptop or other mobile device and use the WiFi or desktop plug-in points.
Information Points offer direct phone access to the Helpdesk as well as online help.
There is also:
self-service printing
photocopying
binding and coursework preparation facilities
specialist facilities including video studios and video conferencing
Cafe Study
See College Lane LRC floor guide
Accommodation on College Lane campus
Bellingham, Spalding & Maclean Court
Our brand new halls of residence!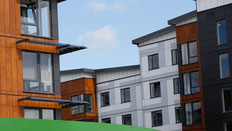 You will find a range of brand new student rooms on the College Lane campus.
All rooms have network points and access to Wi-Fi so you can access the University's high speed internet connection.
The newly opened halls include:
brand new studios.
brand new en suite and shared bathrooms.
renovated halls of residence.
twin rooms.
Telford Court
There are also 11 blocks of self-contained flats at Telford Court. Each flat accommodates 6 people in single rooms, all of which have been refurbished for 2015 entry. All Telford Court rooms have hand washbasins.
Look up the details of College Lane accommodation.
Cost of accommodation
View costs of on campus accommodation. You can also compare costs and room types in our online accommodation portal.
Take a look
Apply today
On campus accommodation is extremely popular so to be in with the best chance of securing a room, you need to apply early.
Can I bring my car?
Yes. There are a limited number of parking permits available for purchase by students living on the College Lane Campus.