University of Hertfordshire Bayfordbury
University of Hertfordshire Bayfordbury
Bayfordbury Observatory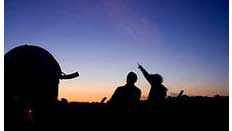 Bayfordbury Observatory is the University of Hertfordshire's teaching observatory for astronomy and astrophysics. It offers students a hands-on experience with some of the latest technology in the field.
It is one of the best equipped teaching observatories in the country and features:
7 large optical, individually-housed telescopes
4 radio telescopes, including an interferometer
High definition planetarium
Unrivalled student access both hands on, and remotely
State-of-the-art technology
Situated approximately 6 miles from the main campus in Hatfield, Bayfordbury is regarded as one of the finest astronomical teaching observatories in the country.
The observatory has formed an integral part of the University of Hertfordshire's astronomy-related degree programmes since it opened in 1970 and is used by our students from the first week of their degree through to their final year, when it can also be used for their final year projects.
The 7 large optical telescope allow students to observe detailed images of objects in space – from the nearby Sun, Moon, planets and asteroids, through star clusters and nebulae, to galaxies hundreds of millions of light-years away.
They can be equipped with a variety of research-grade CCD cameras, high resolution spectrographs or high frame-rate video cameras. Our 5 newest telescopes are also able to be operated remotely, and students and staff can request observations via the internet and have images taken automatically when the weather allows.
Our 4.5-metre radio telescope and 3-dish 115-metre baseline interferometer allow a completely different view of the universe. These are connected to state-of-the-art 21cm line receivers, to detect the neutral hydrogen in the galaxy and extragalactic radio sources.
Find out more about our telescopes.
Remote Sensing Observatory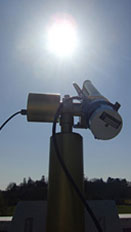 Since 2010 the University has used the Bayfordbury campus as its atmospherics remote sensing observatory.
Operated by the Centre for Atmospheric and Instrumentation Research (CAIR), remote sensing instruments currently installed include:
LIDAR
Photometers
Infrared radiometers
GNSS meteorology receiver
Ultra-sensitive polarimeter
Find out more about remote sensing.
Why Bayfordbury?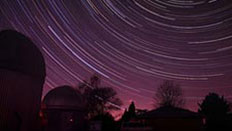 When the University of Hertfordshire was looking for a site for their new observatory in 1969, Bayfordbury was chosen as the best option.