University of Hertfordshire Applicant Day
University of Hertfordshire Applicant Day
Applicant days and interview days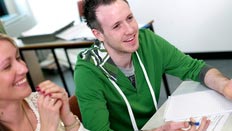 Depending on your chosen course of study, you may be invited to an interview prior to receiving an offer of a place of study, or to attend an Applicant Day after receiving your offer.
Interviews
Once the date has been confirmed, you will receive information to help you prepare. You can also find tips on how to prepare for an interview or audition on the UCAS website.
Applicant days
Upon receiving an offer of a place to study, you will also receive an email with information on how to book your place for an Applicant Day. Once you've booked your place, you will be sent further information about the format of the day.
Our Applicant Days for 2017 entry have now taken place. Please see when you can visit for an Open Day or Campus Tour.
University 0f Hertfordshire
The University of Hertfordshire is a university in Hertfordshire, United Kingdom. The university is based largely in Hatfield, Hertfordshire. Its antecedent institution, Hatfield Technical College, was founded in 1948 and was identified as one of 25 Colleges of Technology in the United Kingdom in 1959. In 1992, Hatfield Polytechnic was granted university status by the British government and subsequently renamed University of Hertfordshire.
Hertfordshire's enrolment has steadily increased since it was awarded university status. With a student community of over 25,130 including more than 5,200 international students that together represent 100 countries, the university has a global network of over 165,000 alumni. The university is one of Hertfordshire's largest employers with over 2,700 staff, 812 of which are academic members of staff and a turnover of more than £235 million. The university is a member of Association of Commonwealth Universities and University Alliance.
Contact the University of Hertfordshire
University switchboard
tel +44 (0)1707 284000
fax +44 (0)1707 284115
email ask@herts.ac.uk