University Of Glasgow Observatory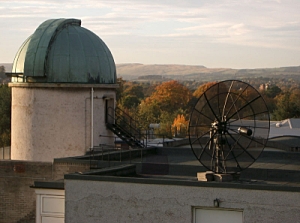 We provide tours of our operational research observatory at Acre Road, just off Maryhill Road, Glasgow, G20 0TL, as shown on Google Maps. The history of the observatory and the current weather and solar radio data are available on the Observatory page.
If you would like to book us, we would require a list of suitable dates for the visit, the numbers/age ranges of the audience, and a contact name, address and telephone number. Our astronomy outreach is operated on a not-for-profit basis, but we would welcome donations towards the operating costs of observatory visits – please contact us for further information or for booking enquiries.
Facilities
Main observing dome with its 16-inch aperture optical telescope.
A fixed planetarium with the same software and projection equipment as our mobile planetarium.
A lecture room with full audio-visual equipment.
Radio telescopes and laboratories.
A Typical Tour: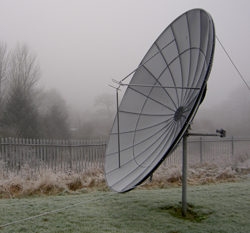 Tours normally begin with an introductory talk in the lecture room. This can be on any topic requested or can serve as a general introduction, as a Q+A session with a real astronomer.
Next is a visit to the main dome control room to see the main optical and radio telescopes. Weather permitting, groups visiting in the evening will have the chance to do some night time observing. We can never guarantee this unfortunately!
Finally the tour will take in a show in the fixed planetarium system. This can be tailored to suit any specific audience or educational requirements.
University Of Glasgow Observatory
Requirements
We recommend that groups allow around 2 hours for a visit.
Due to space restrictions inside the observatory, the maximum capacity is 40.
Tours are normally conducted in 2 or 3 small groups. The optimum size of each small group is 10 people.
All tours are conducted by active research astronomers, and we are happy to tailor our presentations to any specific requirements you may have.