University Of Glasgow Logo
Our marque
The University of Glasgow marque is the most valuable visual asset of our brand identity and is an instantly recognisable symbol of the organisation.
It is made up of two elements: the coat of arms and the logotype; the words 'University of Glasgow'.
We are called the University of Glasgow. Always use this term and never Glasgow University, Glasgow Uni, Uni Glasgow or GU.
The only exception is in social media where UofG is applied in support of our main hashtag #UofG.
‌University Of Glasgow Logo
In support of the University's Gaelic Language Plan, we encourage staff to use the Gaelic version of our marque where appropriate.  The Oilthigh Ghlaschu marque should follow the same guidelines as our English language version.
Please contact marketing-brand@glasgow.ac.uk for further guidance.
‌
Applying the marque
Our marque is used across a range of digital and print mediums including publications, the web, social media, outdoor livery and merchandise.
This means that specific artwork has been produced and approved so that the marque is represented professionally across all communication channels.
Only ever reproduce our marque from approved artwork and never alter, distort or adjust the coat of arms, letterforms, typestyle or visual relationships.
The way the marque is positioned within the blue box is dependent on whether the medium is print or digital so it is important that you read the channel guide below so that you can download the appropriate version of our marque.
University Of Glasgow Logo
Channel Guide
‌Print
The full colour white keyline version in a box should be used across all print.  This includes publications, flyers, banner stands, banners, letter headed paper and business cards. The marque should be positioned 7mm from the top of a page and always top left aligned.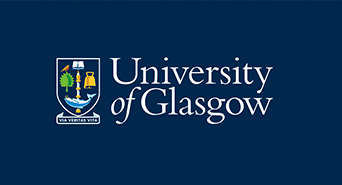 Download / Find out more about print guidelines
Web
The full colour white keyline version in a banner should be used across all University T4 webpages.
Find out more about web guidelines
‌University Of Glasgow Logo
Video
The first element on the video will always be the marque consisting of the coat of arms and logotype with the words 'University of Glasgow', this must always stand alone, as shown below, with no additional elements. This will display for 2 seconds at the start of each video.
Download / Find out more about video guidelines
Social Media
We have a social media friendly version of our full colour keyline in a box with the University Blue. You can apply this to Twitter, Facebook, Instagram and LinkedIn.
Find out more about social media guidelines
Merchandise
The full colour keyline version of the marque is preferred where possible. However due to the size and shape of merchandise we appreciate that this may not be possible and we advise that you work with Matthew Williams, General Manager of GU Heritage Retail Limited if you require merchandise to be commissioned.