University Of Glasgow History Of Art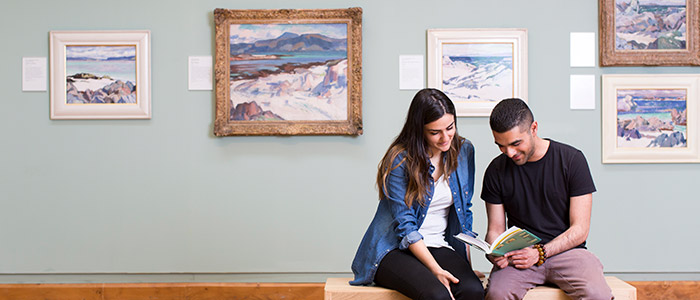 History of art seeks to understand how and why paintings, sculptures, buildings and works in a variety of media come to look the way they do.
You will benefit from the extensive collections of the University's library and the resources of The Hunterian, the University's museum and art gallery, which feature the world-famous Hunter, Whistler and Mackintosh collections.
In your third-year vacation you will receive a grant to assist you to visit museums, galleries and buildings relevant to your chosen course options.
PROGRAMME STRUCTURE
YEAR 1
The first year provides an introduction to history of art by analysing its main trends in two courses: Art History and its Materials and Techniques (semester 1) and Classicism and Naturalism (semester 2). These have been selected so as to provide an accessible and wide-ranging programme of study, even if you are new to art history. They allow you to study works by some of the best-known artists, designers and architects of all time and also introduce you to some key issues in history of art: the uses of different techniques and materials, and relationships between art theory, the role of art patrons and the concept of style. The two courses taken in sequence will prepare you for further levels of study, but either can be taken as an introduction to the discipline by students not intending to take it beyond Level-1.
YEAR 2
You will study two further thematic groups, building on those studied at Level-1. At this stage of the programme, greater emphasis is placed on theoretical and contextual issues, useful foundations for progression to the more detailed study undertaken at Honours level. You will also be introduced to contrasted art-historical approaches and methods and to a range of backgrounds to the production and consumption of art.
You will also study other subjects in years 1 and 2: see Flexible degrees.
YEARS 3 AND 4
If you progress to Honours (years 3 and 4), you will prepare a dissertation and study a wide range of special options concentrating on specific periods and artists. There are core courses on methodological aspects of art history, and research skills in art history. You can apply for the opportunity to include a work placement as part of your Honours programme.
University Of Glasgow History Of Art
PARTNERSHIP AND INDUSTRY LINKS
The University has major, externally funded collaborative research projects with other national institutions, including the National Gallery; Victoria & Albert Museum; the Henry Moore Institute, Leeds; and the Freer Art Gallery, USA.
OUR INTERNATIONAL LINKS
We have an Erasmus agreement with Bonn University Institute for Art History in Germany, enabling suitably qualified students to spend their third year there.
ENTRY REQUIREMENTS
Academic entry requirements

for entry in 2017
Applicants to subject-combinations with Psychology must meet the Psychology degree programmeentry requirements.
A-LEVELS
Standard academic entry requirements: AAB.
Minimum academic entry requirements: BBB.
Other mandatory requirements: One A-level arts, humanities or language subject.
HIGHERS
Standard academic entry requirements: S5 entry requirement = AAAA or AAABB.
Minimum academic entry requirements: S5 minimum requirement = ABBB. S5 & S6 cumulative requirement = AAAAAB.
Other mandatory requirements: Higher English AND a Higher humanities OR language subject at grade A/B or B/A.
We adjust these entry requirements for eligible applicants, from AABB at S5/S6, based upon completion of a pre-entry programme. For pre-entry programme eligibility and adjusted grade requirements, see Access Glasgow.
Accepted humanities and languages Highers
INTERNATIONAL BACCALAUREATE
Standard academic entry requirements: 36 points.
Minimum academic entry requirements: 34 points.
Other mandatory requirements: Must include three HL subjects at 6,6,5 including English AND a humanities subject (or language). While HL6 is preferred for English and Humanities/Language subjects, SL6 will be considered for ONE of the subjects.
EUROPEAN QUALIFICATIONS
Typical entry requirements for European qualifications: Arts European Requirements [pdf]
A-level and IB applicants can expect offers to be between the minimum and standard entry requirements depending on demand for places on the degree.
Please note: all A-Level, International Baccalaureate, and other EU entry requirements must be achieved in first sitting.
English language requirements
CAREER PROSPECTS
This degree offers an excellent starting point for careers in publishing, journalism, teaching and librarianship, and for work in museums, galleries, the heritage sector, art dealing and auction houses. In recent years, our graduates have been appointed to posts including a Getty Collections Management Internship in the USA, and to curatorial or administrative posts at Dulwich Picture Gallery, London; Handel House, London; and the Design and Artists Collecting Society, London.
University Of Glasgow History Of Art
DEGREES AND UCAS CODES
When applying you will need to know the UCAS code for the subject or subject-combination that you wish to apply to:
MA (HONS)
University Of Glasgow History Of Art
History of Art/Business & Management: NVF3

History of Art/Psychology [*]: CVV3
Spanish/History of Art: V3R4
[*] Applicants to subject-combinations with Psychology must meet the Psychology degree programme entry requirements.
FEES AND FUNDING
TUITION FEES
How and when you pay tuition fees depends on where you're from: see Tuition fees for details.
SCHOLARSHIPS
We offer a wide range of scholarships to our undergraduates, including both home/EU and international students. The University is committed to supporting students and rewarding academic excellence. That's why we've invested more than £1m in additional scholarship funding in recent years.
RUK Access Bursary 2017 Entry
RUK Excellence Scholarship 2017
The list of scholarships above are specific to this programme for more available scholarships please search the scholarship database
University Of Glasgow History Of Art
HOW TO APPLY
UCAS DEADLINES
The deadlines for applications to Medicine, Vet Medicine and Dentistry is 15 October each year. The deadline for applications to all other degree programmes is 15 January each year.
The University of Glasgow does not usually accept any applications after these UCAS deadlines. It is the applicants' responsibility to ensure the accuracy of their application prior to submission, and requests from applicants to correct erroneous application content, change degree programme or change college of entry, will not be accepted after these UCAS deadlines. This policy is in place to ensure fairness and consistency to all applicants, and no exceptions will be made.
15 October: if including Dentistry, Medicine, Veterinary Medicine or applying to Oxford or Cambridge
15 January: all other UK/EU applicants (unless otherwise stated on the UCAS website)
30 June: international (non-EU) students.
Apply at www.ucas.com or through your school or college.
Contact UCAS on 0871 468 0468.
University Of Glasgow History Of Art
UCAS TARIFF POINTS
The University does not frame its offers in terms of UCAS tariff points.
HOW SOON WILL I RECEIVE A DECISION?
We will usually respond before the end of March.
If your qualifications meet our requirements and we believe you could benefit from study at Glasgow, you will receive an unconditional offer.
If you haven't yet gained the necessary passes for entry to your chosen subject(s), we may look at the qualifications you are taking when you apply and make you a conditional offer.
WILL I BE INTERVIEWED?
An interview will be part of the selection process for: Community Development, Dentistry, History of Art & Art-world Practice, Medicine, Music, Nursing, Teaching, and Veterinary Medicine & Surgery. You may also be interviewed if you're applying for entry into Year 2 in any subject.
University Of Glasgow History Of Art
IS DEFERRED ENTRY AVAILABLE?
For Dentistry, Nursing and Veterinary Medicine programmes we are unable to consider applications for deferred entry. In other cases deferring may be possible but it's not granted automatically.
UNIVERSITY TRANSFERS
Transfers from another University to the University of Glasgow will only be considered under the following circumstances:
The applicant has a genuine personal circumstance (illness, bereavement or other family situation) which requires the student to move back to their home town to be closer to family; AND
The applicant would have met the University of Glasgow entrance requirements at the time he/she went to the other institution. In exceptional circumstances, a student may be admitted if he/she was marginally below the University of Glasgow entrance requirements, and they have performed above average at the other institution.
WIDENING PARTICIPATION
We want to help talented applicants from all backgrounds to study at Glasgow. See our range of widening access pre-entry programmes at Widening Participation.
Apply at www.ucas.com or through your school or college.
Contact UCAS on 0871 468 0468.