University Of Glasgow Disability Service
Access on campus
Mobility scooters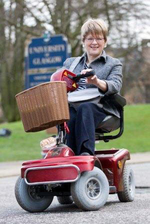 Mobility scooters are available for loan use on a daily basis around the campus. On request we will deliver the scooter to a location of your chosing.We will ask you to sign a one-off Mobility Scooter Contract (doc) for the scooter when you first borrow it.
For further information contact Sylvia Morgan (Disability Service Office Manager).
Parking on campus
The University campus is restricted in its provision for parking for staff and students. All staff and students require parking permits to park on the University campus.
There is a charge for parking permits, however if you are a Blue Disability Badge holder you are exempt from the charge.
When applying for a parking permit, you must provide proof of your 'Blue Badge' status to Central Serviceslocated at the Main Gate of the University, on University Avenue.
The permit will allow you to park on University property and to occupy a bay designated for Disabled Users. These bays are located at various buildings around the University. Students should note that it is not possible to book these spaces and they do not always remain free at places and times that they require throughout the day.
University Of Glasgow Disability Service
Useful resources:
Exam arrangements
What we do
Assessment of your needs
Our role is to decide with you what exam arrangements are required and to notify your department and Registry of your requirements.
All exam support arrangements are subject to appropriate and relevant professional evidence being provided by the student.
Liason with Academic Departments
We work closely and successfully with Academic Departments and Advisers of Studies to support disabled students.
Each School has a Departmental Contact (DC) responsible for addressing and promoting the needs of disabled students within their department.
What we don't do
We are not involved in making the actual arrangements e.g. booking rooms for exams, deciding on start times (for students with extra time), the arranging of invigilators or other specific details relating to your exam arrangements.