University Of Glasgow Biomedical Engineering
BIOMEDICAL ENGINEERING
BEng/MEng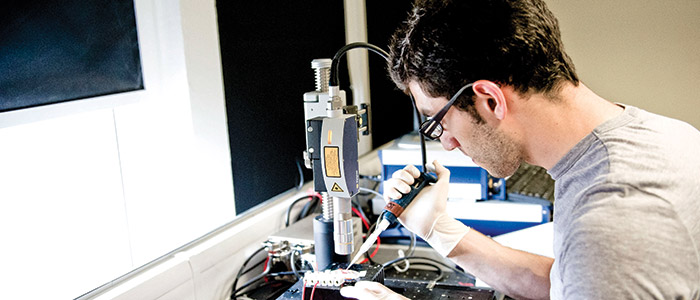 Biomedical engineering is about finding engineering solutions to medical problems. As a rapidly expanding industry, biomedical engineering meets the demands of healthcare through the development of technology.
You'll take part in practical activities including visits to local hospitals. You will benefit from our strong links with industry, with engineers contributing to lectures, projects and case studies, as well as offering work placements.
University Of Glasgow Biomedical Engineering
PROGRAMME STRUCTURE
You will study the same courses in the first three years whether you are on the BEng or MEng degree programme.
YEAR 1
In your first year, you will take a wide-ranging curriculum which includes courses in biomedical engineering, mathematics, dynamics, electronics, materials, statics, thermodynamics and engineering skills. These courses are supported by individual and group project work and laboratory work. This interdisciplinary approach, favoured by industry, also makes it easy to switch to another engineering discipline at the end of year 1 should you wish to do so.
YEAR 2
You will study further engineering and biomedical subjects including engineering mathematics, mechanics, biomaterials, biomedical engineering skills, electronic engineering, engineering design, and human anatomy, physiology and neuroscience.
YEAR 3
You will study more advanced engineering and biomedical subjects including biological fluid mechanics, biomechanics, modelling, instrumentation and control, statistics, medical imaging, and immunology, drugs and disease.
YEARS 4 AND 5
In year 4 of the BEng programme you will complete a project, which takes up one third of the year. Year 4 MEng students undertake a multidisciplinary design project. All year 4 students continue to take courses in engineering, biomedical and life sciences and medicine, such as rehabilitation engineering, biosensors, bioethics and biomedical signal processing. You can also choose from a range of options including cell and tissue engineering, control, materials and mechanics.
If you are an MEng student, in your fifth year you will spend the first six months working on a detailed research-based project which will normally take place in industry, at a hospital or at another university. You will also choose engineering and biomedical engineering courses from advanced subjects such as energy in biological systems, advanced imaging and therapy, scaffolds and tissues, computational modelling, dynamics, and materials.
University Of Glasgow Biomedical Engineering
OUR INTERNATIONAL LINKS
You will be able to apply to spend the third year of your academic studies abroad at an accredited partner university. We also have extensive links to international academic, industrial and clinical partners, which allow our MEng students to undertake their six-month project overseas.
ENTRY REQUIREMENTS
Academic entry requirements

for entry in 2017
BEng
A-LEVELS
Standard academic entry requirements: AAB.
Minimum academic entry requirements: BBB.
Other mandatory requirements: Must include Mathematics and Physics.
HIGHERS
Standard academic entry requirements: S5 entry requirement = AAAA or AAABB.
Minimum academic entry requirements: S5 minimum requirement = AABB. Applicants who achieve between AABB and AAAA/AAABB MAY receive a conditional offer. Any conditional offer will require students to achieve a minimum of grade BB in two relevant Advanced Highers (in cases where applicants attend a school which does not offer relevant Advanced Highers alternative offers will be considered which require a minimum of three additional Highers).
Other mandatory requirements: Entry from S5 requires Higher Mathematics AND Higher Physics at grade A/B or B/A. Entry from S6 will require applicants to have Higher Mathematics in S5 AND Higher Physics at grade A/B or B/A by the end of S6.
We adjust these entry requirements for eligible applicants, from AABB at S5/S6, based upon completion of a pre-entry programme. For pre-entry programme eligibility and adjusted grade requirements, see Access Glasgow.
INTERNATIONAL BACCALAUREATE
Standard academic entry requirements: 36 points.
Minimum academic entry requirements: 34 points.
Other mandatory requirements: Must include three HL subjects at 6,6,5 including Mathematics and Physics. SL6 may be considered for ONE of either Physics or Mathematics. Mathematics Studies is NOT accepted where Mathematics is required.
EUROPEAN QUALIFICATIONS
Typical entry requirements for European qualifications: Engineering BEng European Requirements[pdf]