University of Brighton Vice Chancellor
Professor Humphris will succeed Professor Julian Crampton CBE who earlier this year announced plans to retire.
Lord Mogg, Chairman of the Board of Governors, said: "Our recruitment campaign attracted an exceptionally high calibre of applicants.
"We are delighted Professor Humphris has agreed to become our new Vice-Chancellor. She brings a wealth of experience and skills as an innovator with a proven track record of delivering high-quality results and with a driven commitment to ensuring a first-class student experience.
"At the University of Southampton she was involved in reforming the undergraduate curriculum. She is also a member of HEFCE's National Student Survey Advisory Group and has chaired the Enhancing the London Student Experience Network."
Professor Julian Crampton said: "I'd like to warmly congratulate Professor Humphris on her appointment. Her credentials as an outstanding academic and an inspiring and dynamic leader will, I know, guide the University of Brighton to further success."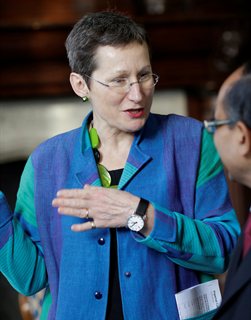 Professor Humphris said: "I'm absolutely delighted to have the privilege to become the next Vice-Chancellor of the University of Brighton. This is a successful institution with a very exciting future and I look forward to working with students, the Students' Union and with staff as we step up to the next level."
With 21,000 students studying at five campuses across Brighton, Eastbourne and Hastings, Lord Mogg said the university enjoys a reputation for innovation, for anticipating and responding to professional and industry needs, and for its responsibility to the health and economic wellbeing of society.
He said: "We collaborate with partners from industry, commerce, the arts, business, other universities, colleges and research institutions in the UK and around the world. We are recognised as a 'rising research star' with 95% of our research now rated as world leading, internationally excellent or internationally recognised according to the REF 2014 results.
Professor Humphris qualified as a Registered Nurse and later held positions as Senior Research Fellow at the South Thames Regional Health Authority and at St George's Hospital Medical School. In 1999 she achieved her PhD which considered the implementation of policy into clinical practice.
Professor Humphris joined the University of Southampton in 2000 as Director of the New Generation Project, a role which explored inter-professional education in health care programmes.
In 2003 she was appointed Director, Health Care Innovation Unit at the University of Southampton, a position which focused on education innovation in health and social care, and from 2008 Professor Humphris was the Pro Vice Chancellor (Education and Student Experience). While at Southampton, she was appointed Professor of Health Care Development.
Professor Humphris became Pro Rector (Education) at Imperial College in October 2012 and in August 2013 she was appointed Vice Provost (Education). Professor Humphris was responsible for the creation, leadership and delivery of the university's education strategic plan, which emphasised enhancing the student experience and the importance of graduate employability.
As Vice Provost (Education), she has overall responsibility for educational strategy and the quality of the educational provision across the university.
Professor Humphris will start work as the University of Brighton's Vice-Chancellor on 1 December.