University of Brighton Interview
Some of our courses will only make offers once they have interviewed all the shortlisted candidates. Being invited to an interview allows you to ask questions and lets tutors assess your suitability for the course before making an offer.
Admissions tutors value evidence of your passion and commitment to a subject as it is an indication of high motivation for being able to enjoy and successfully complete a course. The interview, paired with your personal statement, are vital opportunities to display your enthusiasm for your subject and discuss your relevant experience of the subject area.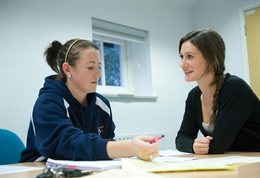 Responding to your invitation
We will invite you to an interview through our online applicant area. You should receive an email alert that you have received an invitation. You will then need to login to accept the invitation. All the details that you need for the day will be included with your invitation. More about managing your application.
On the day
Each school takes a different approach to interviews. Usually your interview day will include an introduction to the course, a tour of the campus, and the chance to speak to lecturers, tutors and current students.
It may also include some short tests that you will do along with the other candidates.
For some courses interviews are held informally in groups, while for others you will have an individual interview with an admissions tutor.
Courses that usually require interview:
Fine art, graphic design, illustration and photography
Medicine
Nursing and midwifery
Occupational therapy
Paramedic practice
Pharmacy
Physiotherapy
Podiatry
Product design
Social work
Teaching
Read over your personal statement before you come to the interview to remind yourself of what you wrote. Questions in an interview will often be based on your personal statement, asking you to elaborate or explain what you've written.
Interviews are not designed to catch you out. They are to give those who teach the course an opportunity to assess whether you will be suited to the course and its demands. They also give you the opportunity to assess for yourself whether the course will be right for you.
If you have to present your portfolio (usually for art or design courses) then you may be asked to prepare a short presentation explaining your work.
Read over your personal statement before you come to the interview to remind yourself of what you wrote.