University of Brighton Business School
Brighton Business School is part of the University of Brighton. It delivers a wide range of undergraduate and postgraduate degrees, part-time courses for professionals, and tailor-made programmes for commercial organisations.
The school has around 1,500 full-time students, 1,000 part-time students and 120 members of academic staff. It provides teaching, research and consultancy in accounting, economics, finance, business, human resources, management, marketing and law.
Formerly part of Brighton Technical College, the school has been teaching business and management courses since the 1960s. Brighton Business School took its current name in 1986. It is located in Mithras House on the Moulsecoomb campus, two kilometers from Brighton city centre. It is located in Beaconsfield
Brighton Business School works closely with local, national and international businesses and many of these companies offer placements to students. It is argued that such placements improve students' employability, and this is borne out by the school's employability record: over 90% of Business School students are employed or continuing their studies within six months of finishing their course.
The school runs a number of accredited degrees which lead to some exemptions from professional examinations. Professional bodies affiliated to the school include the Association of Chartered Certified Accountants, the Chartered Institute of Management Accountants, the Chartered Institute of Personnel and Development, the Chartered Institute of Purchasing & Supply, the Chartered Management Institute, the Institute of Chartered Accountants in England and Wales, and The Law Society.
Brighton Business School hosts two research centres: the Centre for Research in Innovation Management (CENTRIM) and the Centre for Research on Management and Employment (CROME). In the latest Research Assessment Exercise (2008), it was ranked as one of the top 15 UK business schools in terms of world-leading research outputs. 70% of the school's business and management research was found to be of international standing or higher
Courses and accreditations
Our programmes reflect current thinking and practice. With a professional qualification from Brighton Business School, you will develop the knowledge and skills required to differentiate yourself from others and progress in your career.
Undergraduate courses
Prepare yourself for your career with a flexible degree and professional experience.
Postgraduate courses
Our range of accredited Masters degrees will help strengthen your existing skills and qualifications.
Executive education
Professional part-time courses to help enhance your career or change profession.
Entrepreneurship
Employers increasingly seek to employ individuals with entrepreneurial and innovation skills. Find out more about our optional modules on Entrepreneurship and Gamification.
International students
Find out more about studying with us as an international student.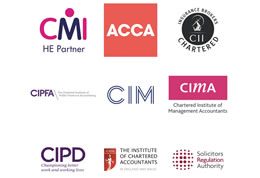 Accreditations
Professional bodies help us reflect the latest industry thinking in our teaching.
General enquiries
Brighton Business School
University of Brighton
Mithras House
Lewes Road
Brighton
BN2 4AT
Telephone: +44 (0) 1273 642974
Fax: +44 (0) 1273 643597
Email: business@brighton.ac.uk