Teesside University Professors
Teesside University professors 'must re-apply for job'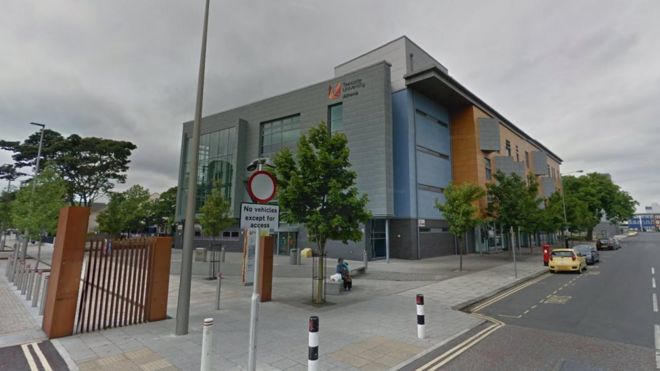 All research professors at Teesside University have been told they need to re-apply for their jobs, the BBC has learned.
The move affects 27 professors across the university's five schools.
A spokesman for the university said it was creating a new role with new criteria.
The University and College Union (UCU) said it was "surprised" by the move, which they said effectively means each professor is at risk of redundancy.
Jon Bryan, from UCU, told BBC Tees it was a "shock" and a "kick in the teeth" for those affected.
'Early consultation'
Mr Bryan said Teesside University does "internationally excellent research" and has got "world leading experts in a whole range of fields".
A university spokesman said the new role of "professor (research)" would build on the university's "research success".
"The university is currently in the early stages of consultation with the relevant staff," he added.
"The proposed process would enable all current professors to apply for appointment to the new role and, if they met the new criteria, be appointed.
"All current research students will continue to be supported through their studies during these changes."
Teesside University professors may have to reapply for their jobs – prompting social media backlash
All 27 research professors face job uncertainty under restructuring plans:: Open letter condemning proposals attracts support
Academics across Britain are backing Teesside University professors who are faced with reapplying for their jobs.
As part of a restructuring exercise, all 27 research professors at Teesside may have to reapply for their posts.
But the University and College Union (UCU) says it effectively means each professor is at risk of redundancy.
And a social media campaign has seen academics and students from the UK and beyond post their support for the Teesside staff.
Using the hashtag #Teesside Profs, the page features an "open letter" to the university "that condemns these plans, questions the legitimacy of their rationale, and calls for their immediate delay and thorough re-evaluation."
The letter continues: "It is signed and supported by academics from dozens of higher education institutions , expressing solidarity with our professorial colleagues impacted by the proposed exercise."
The letter's authors say they are not professors, nor are they affiliated with Teesside University.
More than 500 people have so far signed up to support it.
A Teesside University spokesman said that as part of its new Teesside 2020 strategy "to move the university forwards", it was committed to building on its last Research Excellence Framework (REF) report which rated most of its research as world-leading or internationally excellent.
He said: "As part of these plans, the university is proposing to bring together the variety of disparate roles of staff holding the professorial title and create a new role of Professor (Research), based around a single, clear and consistent role description for this group of staff, and a clear set of expectations which have been agreed by the University Academic Board.