Teesside University Darlington Courses
Teesside University Darlington is holding an open day offering people interested in part-time study the chance to explore the wide range of courses on offer.
More information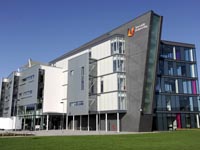 Teesside University's Darlington campus
Return to news releases for July 2012
Contact the Press Office
Part-time study is often fitted around work, family and lifestyle commitments, so a team of specialists will be on hand to answer and discuss any queries.
If you are an employer, or you are thinking of setting up a new business, Teesside University Darlington can help you succeed with a range of business services.
The open day, which takes place on Wednesday 11 July from 2.00pm to 7.00pm at Teesside University's Darlington campus, will give you the chance to meet with subject specialists and get all the information you need to know about the courses and facilities. Even those unable to stay long can drop in any time during the open day.
The recently built Darlington campus can accommodate a wide variety of needs, specialising in part-time courses, from certificate level through to undergraduate and postgraduate levels.
Karen Williams, Recruitment Co-ordinator at Teesside University, said: 'Our open days are fantastic events that give people considering part-time study first-hand experience of what we can offer. The excellent facilities at our new campus have opened up the door to people living in and around Darlington.'
To book your place on the Darlington open day call 01642 342275 or book online at www.tees.ac.uk/darlington.