Northumbria University Malaysia
Students from Malaysia currently account for 15% of the international student population on campus at Northumbria University. Our Malaysian students are enrolled on a diverse range of programmes including Accounting, Applied Sciences, Biomedical Science, Food Science and Nutrition, Graphic Design, International Business Management, International Hospitality and Tourism, Interior Design, Law, Psychology, Quantity Surveying, Real Estate Management and many more.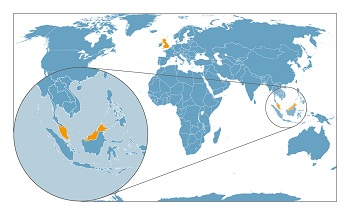 Northumbria University has strong links with Malaysia, providing Malaysian students with the opportunity to study in the UK, Malaysia or both. Around 30% of Northumbria students studying on collaborative or distance learning programmes are based in Malaysia. Should you wish to study with Northumbria but remain in Malaysia our collaborative programmes available with Malaysian institutions cover a wide variety of subject areas including Business, Computing, Communications and Public Relations, Design, Law, Mechanical Engineering, Nursing and Physiotherapy.
Entry Requirements and Scholarship Information
For details on our English Language Requirements and Pre-Sessional Courses visit our English Language Centre pages.
Although some courses have specific requirements for entry, Northumbria will consider any qualification for entry to its courses.
For entry to:
You will need:
Grade Required:
Grade Required for £2500 Scholarship

(September 2017)

IFP

 

SPM
Grade C or above in 5 academic subjects
UEC Unified Examination Certificate (Senior Middle Level)
50-75%
Year 12 equivalent
May be considered if entry requirement for a degree course is not met.
1st Year Undergraduate
Malaysian University recognised Foundation  Year
2.5 GPA
 3.0 GPA
Cambridge Overseas Advanced Level Examination
3 A Levels or equivalent (to meet the required UCAS tariff points)
STPM Malaysia Higher School Certificate
3 Principals excluding General Paper and Malay Studies – Grades will depend on course applied for
 AAB
International Baccalaureate Diploma
see UK/Generic
Malaysian University Matriculation Programme
Minimum CGPA 3.00 average or equivalent
 3.4
South Australian Matriculation
Minimum ATAR 85%
 95%
UEC Unified Examination Certificate (Senior Middle Level)
75% (B3 grades)
excluding Malay and Chinese languages
 85%
2nd Year Undergraduate
Year 1 Malaysian Degree Programme
Minimum CGPA 2.5 or equivalent (subject to chosen courses)
 GPA 3.0
Malaysian Diploma
GPA 2.5 (subject to chosen courses)
 GPA 3.0
Year 1 UK/Malaysian Franchise Degree
Pass (50%)
 65%
Final Year Undergraduate/Completion Award Degree
Year 2 UK/Malaysian Franchise Degree Programme
Minimum CGPA 2.75 or equivalent (subject to chosen courses)
 CGPA 3.00
Postgraduate Programmes
An Honours degree from a recognised institution
Minimum of Second Class Honours (Second Division)in relevant field  – depending on course
 CGPA 3.4//4  or  1st class honours
Graduate Certificate
An Honours degree from a recognised institution
Pass degree
Please note these are general entry guidelines. Actual requirements may vary depending on your chosen course of study and certain courses may have specific or additional entry requirements, full details can be found on our course directory. Decisions for entry will also be based on personal statements, previous study information and not just your final course grading.
Malaysia Country Representatives
For further enquiries, help submitting your application and interviews in your area please contact your local Northumbria University representative whose details are listed below.
Johor
AUG Student Services
152I | 1st Floor | Jalan Sia Her Yam | Segamat | Johor | 85000
AUG Student Services
39 Harimau Tarom | Taman Century | Johor Bahur | Johor | 80250
Education UK (JM Education Counselling Ctr)
No 15-01 Jalan Austin Heights 3/1 | Taman Mount Austin | Johor Bahru | 81100
IDP Education UK
38-01| Jalan Austin Heights 3//2 | Taman Mount Austin | 81100 | Johor Bahru | Johor
Phone: 607 364 0080
Fax: 607 364 0081
Kuala Lumpur
AUG Student Services
Suite 19.02 | Level 19 | Wisma MCA | 163 Jalan Ampang | Kuala Lumpur | 50450
Education UK (JM Education Counselling Ctr)
B-0-11 | Plaza Damas 3 | No 63 Jalan Sri Hartamas 1 | Kuala Lumpur | 50480
GEN Education (M) Sdn Bhd
Unit 16.03 | 16th Floor | Wisma MCA | 163 Jalan Ampang | Kuala Lumpur | 50450
IDP Education UK
6th Floor | West Block | Wisman Selangor Dredging | 142-C Jalan Ampang | 50450 | Kuala Lumpur
Phone: 603 2162 3755
Fax: 603 2162 2078
InterStudy Education Consultants
19A-LGF-9 Lower Ground Floor | UOA Centre | No.19 Jalan Pinang | Kuala Lumpur | 50450
Phone: 603 2166 2989
Fax: 603 2166 2998
K Smart Study Education Centre
Centrepoint South | Penthouse (Level 27) The Boulevard | Midvalley City Lingkaren Syed Putra | Kuala Lumpur | 59200
Phone: 603 2096 9739
Fax: 603 2096 9787
NAS Education Sdn Bhd
Level 24 | Unit No. B1 | Menara MARA | Jalan Tuanku Abdul Rahman | Kuala Lumpur | 50100
Nirwana Education Group
10th Floor | Bangunan First Nationwide | 161 Jalan Tun H.S. Lee | Kuala Lumpur | 50000 | Wilayah Persekutuan | Malaysia
PDVL Overseas Advisory Sdn Bhd
2-16 | PV 128 | 128 Jalan Genting Klang | Setapak | Kuala Lumpur | 53300
Tunku Abdul Rahman University College
Jalan Genting Kelang | Kuala Lumpur | 53300
UCSI University
No 1 Jalan Menara Gading | UCSI Heights | Cheras | 56000
Kuantan
AUG Student Services
A-271-1 | Jalan Beserah | Kuantan Star City 2 | Kuantan | Pahang | 25300
Melaka
AUG Student Services
203-B | Jalan Kenanga 3/29A | Off Jalan Gajah Berang | Taman Kenanga|  Melaka | 75200
Negeri Sembilan
AUG Student Services
LK2-01-02 | Blok LK2 | Laman Komersil Areca | Putra Nilai | Nilai | Negeri Sembilan | 71800
Easy Study Solutions
LK2-01-03 | Laman ARECA Commercial | Jalan 12/1 | Putra Nilai |  Nilai | Negeri Sembilan | 71800
Penang
ASA Overseas Education Specialist (M) Sdn Bhd
First Floor | 441-1-7 Pulau Tikus Plaza | Burmah Road | Jalan Burma | Penang | 10350
AUG Student Services
441-G-9 Pulau Tikus Plaza | Jalan Burma | Pulau Tikus | Penang | 10350
Education UK (JM Education Counselling Ctr)
No 6, Jalan Gottlieb | Penang | 10350
Education UK (JM Education Counselling Ctr)
No. 75, 1st Floor, Jalan Perniagaan Gemilang 1 | Pusat Perniagaan Gemilang | Bukit Mertajam | Penang | 14000
IDP Education UK
441-1-1 Pulau Tikus Plaza | Jalan Burma | Penang | 10350
InterStudy Education Consultants
56-B Ground Floor | Perak Plaza | Jalan Perak | Penang | 10150
INTI International College Penang
1-Z Lebuh Bukit Jambul | Penang | 11900
Perak
AUG Student Services
33 Ground Floor | Persiaran Green hill | Ipoh | Perak 30450
Education UK (JM Education Counselling Ctr)
48A | Tingkat Taman Ipoh 12 | Taman Ipoh Selatan | Ipoh | 31400
Email: kathe@jmecc.com
Phone: 017 891 3411
Fax: 605 2100 342
Mobile: 6012 436 8982
Sabah
A3 Education & Training
Lot 21 | 1st Floor | Lido Plaza | Jalan Nosoob Hungab | Penampang | 88300 | Kota Kinabalu | Sabah
ASA Overseas Education Specialist (M) Sdn Bhd
Lot 3A | 1st Floor | Block D | Pust Komersil 88 (88 Marketplace) | Jalan Pintas | Kota Kinabalu
Education UK (JM Education Counselling Ctr)
Unit 43 | 1st Floor | Block G | Lot G-1-7 | Lorong Capital | Karamunsing Capital | Sabah | 88300
IDP Education UK
Lot 2-1 | 1st Floor | Lintas Plaza 1 | Jalan Lintas | Kota Kinabulu | Sabah | 88300
Phone: 6088 242 336
Fax: 6088 242 351
GEN Education (M) Sdn Bhd
Lot 66 | Block K | KK Times Square | Off Coastal Highway | Kota Kinabalu | Sabah | 88100
GES Global Education Services
Metro Town | Block A | Unit 2 | 1st Floor | Jalan Bunga Ulam Raja | Kota Kinabalu | Sabah | 88300
Market Management Services Sdn Bhd
Shoplot 1-3 | Block A | Camai Plaza | Phase IV Luyang | Kota Kinabalu | Sabah | 88300
Phone: 6088 252 044
Fax: 6088 252 043
Sarawak
AUG Student Services
Sub Lot 6 | Sekama 7 | Jalan Sekama | Kuching | Sarawak | 93300
Education UK (JM Education Counselling Ctr)
191C 1st Floor | Sublot 4 | Lot 3166 | 2 1/2 Mile | Rock Road | Sarawak | 93250
GEN Education (M) Sdn Bhd
GEN Education Hub | No1 | Jalan Batu 6-7 Penrissen | Kuching | Sarawak | 93250
GES Global Education Services
No 4 | Lot 7225 | 2nd Floor | Medan Central Commercial Center | JalanTanjung | Kidurong | Bintulu | Sarawak | 97000
GES Global Education Services
57 First Floor | Jalan Tun Jugah | Kuching | Sarawak | 96000
GES Global Education Services
Lot 1378 | Second Floor | Miri Centre Point | Phase 2 | Jalan Kubu Miri | Sarawak | 98000
GES Global Education Services
No 2 | 2 Second Floor | Jalan Merdeka Barat | Sibu | Sarawak | 96000
IDP Education UK
1st Floor | No.28 Brighton Square | Jalan Song | Kuching | 93350
Market Management Services Sdn Bhd
32 Block E | Second Floor | Taman Sri Sarawak Mall | Jalan Tunku Abdul Rahman | Kuching | 93100
Selangor
ASA Overseas Education Specialist (M) Sdn Bhd
Lot F106 | First Floor | Centrepoint (new wing) | 3 Lebuh Bandar Utama | Petaling | Jaya | Selangor | 47800
AUG Student Services
8 Jalan SS15/8 | Subang Jaya | Selangor Darul Ehsan | 47500
Education UK (JM Education Counselling Ctr)
Lot S9 | Centre Point (Old Wing) | Lebuh Bandar Utama | Selangor | 47800
Education UK (JM Education Counselling Ctr)
36 Jalan SS 15/8 | Subang Jaya | Darul Ehsan | Selangor | 47500
GEN Education (M) Sdn Bhd
CT-01-03 Corporate Tower | Subang Square | Subang Jaya | Selangor 47500
GEN Education (M) Sdn Bhd
B-27-M Jaya One | Jalan Universiti | Petaling Jaya | Selangor
GES Global Education Services
Suite A-03-10, Empire Tower 1 | Empire Subang | Jalan SS 16/1 | 47500 Subang Jaya | Selangor
IDP Education UK
18 Ground Floor | Jalan SS 15/8 | 47500 | Subang Jaya | Selangor Darul Ehsan
Phone: 603 5636 5548
Fax: 603 5632 4212
K Smart Study Education Centre
Lot 733 | Jalan 18/2B | Taman Sri Serdang | Selangor | 43300
Sunway Education Group
No 5 | Jalan Universiti | Bandar Sunway | Petaling Jaya | Selangor | 46150
UKEC 
Unit 7B | Nadayu 28 Dagang | Jalan PJS 11/7 | Bandar Sunway | Petaling Jaya | Selangor Darul Ehsan | 47500