Northumbria University KPT
Knowledge Transfer Partnerships Boost your business by recruiting a high calibre graduate to transfer university expertise into your organisation
If your business is working on a project that would benefit from a new way of thinking, we could have the solution for you.Knowledge Transfer Partnerships support businesses wishing to make a strategic change requiring expertise not currently available in-house. By participating in a KTP, businesses collaborate with the University to improve competitiveness, productivity and performance.
KTP partner companies typically report an increase in profits before tax of over £240,000 and generate at least two new posts plus new skills for existing staff.
Knowledge Transfer Partnerships at Northumbria University from Northumbria University on Vimeo.
Partnership rated as outstanding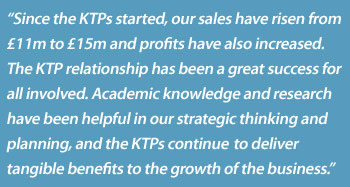 Renown Engineering has completed two highly successful KTP projects with us to implement a business and marketing strategy and introduce a New Product Development capability. A third KTP focussed on Renown's business in the Oil and Gas sector is under way.
Northumbria graduates Ben Moore and Jack McCusker helped Renown re-invent itself as a high-tech, value-added company with its own products and brands, prepared to fully exploit future opportunities.
Both the completed KTPs have now been rated as 'outstanding' by Innovate UK, an accolade achieved by less than 15% of KTPs nationally. And both KTP Associates are now employed in management roles, a testament to the effectiveness of the scheme.
KTP or Knowledge Transfer Partnerships is Europe's leading programme helping businesses to improve their competitiveness by enabling companies to work with higher education or research and technology organisations to obtain knowledge, technology or skills which they consider to be of strategic competitive importance. The UK-wide programme is overseen by Innovate UK, the UK's innovation agency, and supported by 16 other public sector funding organisations.