University of Hertfordshire Quintin Mckellar
University of Hertfordshire Quintin Mckellar
Professor Quintin McKellar CBE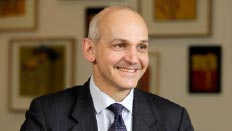 Job title: Vice-Chancellor and Chief Executive
View Professor McKellar's staff profile
My role at the University
My official title is Vice-Chancellor and Chief Executive of the University of Hertfordshire. I came to this role in 2011 following the retirement of Sir Tim Wilson, who was the previous Vice-Chancellor.
My previous role was Principal of the Royal Veterinary College, which is located very close by. I consequently heard about the Vice-Chancellor vacancy and thought it looked very attractive. I was attracted by the business facing agenda and the friendly people in the University.
A typical day at work
Normally, I will have a series of meetings scheduled in a day, these are often with internal colleagues as I meet with all my direct reports on a monthly basis and I have eleven people who report directly to me from the Chief Executive's Group. We hold 1:1 meetings for an hour to discuss what is happening in their particular area within the University.
I also regularly have meetings with external bodies and represent the University at groups like Universities UK, which is, if you like, the association of university Vice-Chancellors.
We have specific structured meetings and operational meetings relating to particular activities going on across the University. For instance, we are building new student accommodation, a new student centre and have just opened a new reception area so there is quite of lot of construction work going on at the moment.
We also have a series of corporate governance and executive meetings, for example our Board of Governors, Academic Board, and Chief Executive's Group.
Quite often, I will also have University commitments in the evenings, either events that I am hosting or something that is going on within the University. I also attend external dinners and events run on behalf of people with an interest in the Higher Education sector usually relating to higher education or research.
An important part of my external facing role is liaising with local MPs, the Hertfordshire Local Enterprise Partnership, Hertfordshire County Council and the various district councils in the area.
I still have research interests and am Chair of the Trust of The Pirbright Institute, and a member of the Government's Science Advisory Council. I am also a governor of a local school.
We have a lot of alumni and fundraising activities and we are trying to develop a community not just of alumni, but of people who have an interest in the University who might want to support us further.
Why I like working for the University
There are so many things. For me, first and foremost, is that most people in the University that I come into contact with are genuinely friendly and enjoy their work, so that makes a big difference.
We are, relatively speaking, a young organisation, although, some people have been in the organisation almost since its inception. There are some people who have been here 30 or 40 years, which is hugely impressive and shows people clearly do like working here.
The fact that the University is relatively young and that it has been constantly changing since it was established, from a Technical College to a Polytechnic, and then from a Polytechnic to a University means that the institution has been constantly evolving.
We have developed overseas partnerships, partnerships with businesses and with the local community and all these things have involved change. I think unlike some of the ancient universities which have been going through long periods of constant endeavour in the same way, we have changed very frequently and almost always positively.
I think also that colleagues have a very honest, pragmatic view about the University. That is not to say that they are not ambitious – I think they're enormously ambitious. But, we all understand what kind of University we are, we all understand how we can work together to make it better, and I think everyone's working together to try and do that right now.
Looking beyond the University to the local community, many local residents appreciate the culture, sport, and the learning environment that we bring to Hatfield. Many take part in continuing development through the professional development, UHArts, and all the activities that we do which is a really positive thing for the University and one of which I am very proud.
Education and Career
McKellar graduated from Glasgow University Veterinary School in 1981, and went on to gain a PhD in Veterinary Parasitology in 1984. In August 1997 he took up the post of Scientific Director of the Moredun Research Institute and Chief Executive of the Moredun Foundation. From 2004 he was principal of the Royal Veterinary College (RVC) of the University of London, a position which he held for six years.His research interests are in the pharmacology of anti-infective and anti-inflammatory drugs in domestic animals, and he is widely published.
McKellar was appointed CBE in 2010 for his services to science, during his tenure as principal of the Royal Veterinary College.
In 2015 he was elected as a Board member of Universities UK  and is also chair of the University Vocational Awards Council.
He is chair of the Board of Trustees of The Pirbright Institute and also co-chair of the National Centre for Universities and Business (NCUB) Food Economy Task Force.
He is a member of the Hertfordshire Local Enterprise Partnership  and chair of the Hatfield Renewal Project Board.
He was also a member of the Government Chief Scientist Steering Group on Animal and Plant Health in the UK.
Awards and honours
HONORARY APPOINTMENTS
1997-2004 University of Glasgow Visiting Professor
1997-2004 University of Edinburgh Honorary Professor
2012 Taiyuan University of Technology Visiting Professor
FELLOWSHIPS
2001 Fellowship of the Institute of Biology
2002 Fellowship of the Royal Agricultural Societies
2003 Fellowship of the Royal Society of Edinburgh
2009 Fellowship of the Royal Society for the Encouragement of Arts, Manufactures and Commerce
2016 Fellowship of the Royal College of Veterinary Surgeons
HONOURS
2011 Commander of the Order of the British Empire (CBE)
ACADEMIC AWARDS
Pfizer Academic Award for Animal Health Research 1986
The Wellcome Trust Medal for Veterinary Research 1993
British Small Animal Veterinary Association Amoroso Award 1995
Royal Agricultural Society Bledisloe Award 2000
Saltire Society Scottish Science Award 2001
British Veterinary Association Wooldrich Award 2002
COMMERCIAL ACHIEVEMENTS
Patent: (PCT/GB94/00193) Synergistic benzimidazole anthelmintics (1993)
Good Laboratory Practice: Department of Veterinary Pharmacology, University of Glasgow (1993)
Directorships: Moredun Scientific (1997-2003)
London Bioscience Innovation Centre (2004-2007; Chairman 2007-2010)
Genomia Limited (2004-2008)
Royal Veterinary College Hong Kong Ltd (2009-2010)
European College of Veterinary Pharmacology and Toxicology Ltd (2010-2016)
University of Hertfordshire Holdings Ltd (2011 – present)
Exemplas Ltd (2011 – 2014)
Industrial Consultancies: Five Pharmaceutical companies since 1988
Royal Veterinary College: Fifth in Times Higher Education League Tables for Commercial Enterprise (2008)
University of Hertfordshire: Entrepreneurial University of the Year (2010 – 2011)
Published Research
PEER REFEREED PUBLICATIONS
McKellar, Q.A., Lees, P. and Gettinby, G. Pharmacodynamics of tolfenamic acid in dogs. Evaluation of dose response relationships. European Journal of Pharmacology (1994) 253, 191-200.
Benchaoui, H.A. and McKellar, Q.A. Interaction between fenbendazole and piperonyl butoxide: pharmacokinetic and pharmacodynamic implications. Journal of Pharmacy and Pharmacology (1996) 48, 753-759.
McKellar, Q.A., Gibson, I. Monteiro, A. and Bregante, M. Pharmacokinetics of Enrofloxacin and Danofloxacin in plasma, inflammatory exudate and bronchial secretions of calves following subcutaneous administration. Antimicrobial Agents and Chemotherapy (1999), 43, 1988-1992.
Cheng, Z., Nolan, A., and McKellar, Q.A. Anti-inflammatory effects of carprofen, carprofen enantiomers, and NG-nitro-L-arginine methyl ester in sheep. American Journal of Veterinary Research (2002) 63, 1-7
McKellar, Q.A., Gokbulut, C., Muzandu, K. and Benchaoui, H. Fenbendazole Pharmacokinetics, Metabolism and Potentiation in Horses. Drug Metabolism and Disposition (2002), 30, 1230-1239.
Sarasola, P., Lees, P., Ali Abadi, F.S., McKellar, Q.A., Donachie, W., Marr, K.A., Sunderland, S.J. and Rowan, T.G. Pharmacokinetic and Pharmacodynamic Profiles of Danofloxacin Administered by Two Dosing Regimens in Claves Infected with Mannheimia (Pasteurella) haemolytica. Antimicrobial Agents and Chemotherapy (2002), 46, 3013-3019.
Mitchell, J.D., McKellar, Q.A., and McKeever, D.J., Pharmacodynamics of Antimicrobials against Mycoplasma mycoides small colony, the causative agent of contagious Bovine Pleuropneumonia. P lo S one 01/2012; 7 (8): e44158
Mitchell, J.D., McKellar, Q.A., and McKeever, D.J., Evaluation of antimicrobial activity against Mycoplasma mycoides subsp. mycoides Small Colony using an in vitro dynamic dilution pharmacokinetic/pharmacodynamic model. Journal of Medical Microbiology, (2013) 62 (Pt 1) 56-61.
Contributions to Reports, Book Chapters and Editorships
MAJOR REPORTS
1. Animal and Plant Health in the UK: Building our science capability. Government Office for Science, Department for Environment, Food and Rural Affairs, 2014.
2. Leading Food 4.0: Growing Business – University Collaboration for the UK's Food Economy – National Centre for Universities and Business, 2015
Key Public Lectures
McKellar, Q.A., Therapy for Livestock in a Global Community, Elixir or Crutch. Saltire Society Science Award. Royal Society of Edinburgh 2001.
McKellar, Q.A. Pride and Prejudice. The Wooldrich Lecture, British Veterinary Association, Stratford, 2002.
McKellar, Q.A. The Future of Animal Welfare. The Royal Philosophical Society of Glasgow, Glasgow 2003.
McKellar, Q.A. How can milk cost less than water? Royal Society for the Arts Annual President's Lecture (HRH The Duke of Edinburgh), London 2009.