University of Hertfordshire Quintin Mckellar
University of Hertfordshire Quintin Mckellar
Professor Quintin McKellar CBE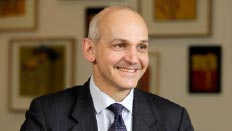 Job title: Vice-Chancellor and Chief Executive
View Professor McKellar's staff profile
My role at the University
My official title is Vice-Chancellor and Chief Executive of the University of Hertfordshire. I came to this role in 2011 following the retirement of Sir Tim Wilson, who was the previous Vice-Chancellor.
My previous role was Principal of the Royal Veterinary College, which is located very close by. I consequently heard about the Vice-Chancellor vacancy and thought it looked very attractive. I was attracted by the business facing agenda and the friendly people in the University.
A typical day at work
Normally, I will have a series of meetings scheduled in a day, these are often with internal colleagues as I meet with all my direct reports on a monthly basis and I have eleven people who report directly to me from the Chief Executive's Group. We hold 1:1 meetings for an hour to discuss what is happening in their particular area within the University.
I also regularly have meetings with external bodies and represent the University at groups like Universities UK, which is, if you like, the association of university Vice-Chancellors.
We have specific structured meetings and operational meetings relating to particular activities going on across the University. For instance, we are building new student accommodation, a new student centre and have just opened a new reception area so there is quite of lot of construction work going on at the moment.
We also have a series of corporate governance and executive meetings, for example our Board of Governors, Academic Board, and Chief Executive's Group.
Quite often, I will also have University commitments in the evenings, either events that I am hosting or something that is going on within the University. I also attend external dinners and events run on behalf of people with an interest in the Higher Education sector usually relating to higher education or research.