London South Bank University Business Management
BA (Hons) Business Management focuses on the study of organisations, management and the changing environment in which they operate.
Modules
Business Management degree for Saturday students – If you are a prospective student looking to study on the Saturday programme, please see the module outline at the bottom of this page.
Year 1
Concepts of Management
Principles of marketing
Financial accounting fundamentals
People and organisations
Business economics
Management and information systems
Year 2
The principles of managing e-business
Managing business and innovation
Managing business logistics and negotiations
Business ethics today: social and legal foundations
Plus two options from:
Business contracts
Diagnostic analytics
Emerging markets, and the Asia-pacific business environment
Entrepreneurial mind-set – business discovery and development
Environmental economics and sustainability
Financial accounting and analysis
Fundamentals of finance
Fundamentals of project management
Marketing research
Human resource management
Retail operations
Social media in a business context
A foreign language and applied research report
Year 3
Strategic management and leadership
Leading and managing SMEs
Financial reporting
Audit and assurance
Plus three options from:
Management accounting for decision making
Practical analytics
Mobile applications – from idea to mass adoption
Labour and capital in an age of globalisation
MSP – managing successful programmes (certification)
Entrepreneurial finance
Individual and organisational learning and development
Legal protection of business creativity
Brand management
PRINCE2® foundation – training (certification)
Retail boutique and shopper behaviour
Social impacts of systems in contemporary society
Business research methods
Professional placement module
Enterprise placement module
Year 4
If you study the full-time BA (Hons) Business Management Degree you'll' have the option to either undertake a work placement as part of the 4-year sandwich course.
Modules are assessed by a mix of coursework assignments, presentations and exams. Methods of assessment for course overall: 94% coursework.
Saturday students module outline
Year 1
Concepts of Management
Principles of marketing
Financial accounting fundamentals
People and organisations
Business economics
Management and information systems
Year 2
The principles of managing e-business
Managing business and innovation
Managing business logistics and negotiations
Business ethics today: social and legal foundations
Marketing research
Human resource management
Year 3
Optional one year placement period
Year 4
Strategic management and leadership
Leading and managing SMEs
Resourcing and reward
Marketing Strategy and Planning
PRINCE2® foundation – training (certification)
Risk and its management in Global Markets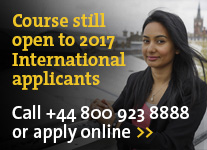 Contact information
Course Enquiries – UK/EU
Tel: 0800 923 8888
Tel: +44 (0) 20 7815 6100
Course Enquiries – International
Tel: +44 (0) 20 7815 6189