Laetitia Zeeman University of Brighton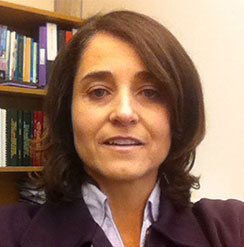 Laetitia Zeeman has developed a research and scholarly focus in the field of gender, sexuality and health. The central principles of this work question dominant discourses of health to recognise the strengths and abilities of people when they face adversity or have gained experience of mental health problems. When health discourses are actively deconstructed, via the narratives people tell of their lives, we make visible how these stories inform identify formation and wellbeing. The overarching aim of this work is to take account of the health and social inequalities that underpin adversity, and more specifically to reduce the inequalities of lesbian, gay, bisexual, trans and intersex people. By opening up discourses of health and healthcare, and by tackling health inequalities, we can re-imagine participatory and socially just healthcare systems and clinical practice leading to material change.
Dr Laetitia Zeeman
Students learn best when engaged and inspired. As a result I prefer learning and teaching activities that are collaborative where students participate in discussion and critical debate in order to generate alternative ways of thinking. Drawing on contemporary health and critical social theory we aim to make meaning of lived experience in order to inform their writing and research. Recent focus areas include the following:
Mental health
Health discourses
Qualitative research (narrative inquiry and critical discourse analysis)
Critical reflection
Research appraisal
Values-based practice
Culture, health and wellbeing
Gender and sexuality
Health and social Inequalities
Resilience and asset-based approaches to mental health promotion
Narrative therapy
My research explores the intersections between gender, sexuality and health where factors such as heteronormativity, minority stress and discrimination lead to health and social inequalities experienced by lesbian, gay, bisexual, trans and intersex people. The political aim of this work is to address the causes of inequalities underpinning the adversity experienced by marginal groups, in order to bring about material change. This research considers how barriers can be overcome by health professionals when providing care, and how to address the obstacles LGBTI people face when accessing healthcare. The output informs health service development and delivery to take account of gender and sexual plurality, thereby promoting the health and wellbeing of those who lead non-normative lives.
Current research projects:
Health4LGBTI
Health improvement commissioning for children, families and schools in East Sussex
Previous research projects:
Longitudinal research to evaluate the Mental Health Practitioner Training Programme. University of Southampton in collaboration with Hampshire Partnership Trust (Co-I) with Jo Brown (P-I), Lucy Simons and Laetitia Zeeman from 2005 to 2009.
Research in collaboration with ITD, a management consultancy firm working in the South African Mining Industry to address health and social inequalities. Back at work: Psychological debriefing following industrial action. Dirk Kotze (P-I), Johann Roux and Laetitia Zeeman from 2012-2013.
A critical discourse analysis of gender discourses in a South African cultural context. (P-I) D.Cur Thesis, University of Johannesburg from 1996-2000.
Research centres and groups
Centre of Health Research
Transforming Sexuality and Gender Research group
CONTACT
Contact me
Dr Laetitia Zeeman
Senior Lecturer
Health Sciences
Falmer
Brighton
BN1 9PH
Telephone: +44 (0)1273 644194
Email: L.Zeeman@brighton.ac.uk