King's College London University Open Days
King's College London University Open Days
Undergraduate Study
Open Days
The  Department of Global Health & Social Medicine welcomes visitors at its taster days or during the various pre- and post-offer open days arranged by the university.
Undergraduate Open Days
King's College London holds Pre-application Open Days for prospective students (ie, those in Year 12 or equivalent). For further information click here.
The  Department also takes part in post-offer Open Days on selected dates between January and March. The admissions team will tell you about the Department's degrees and the careers that our graduates enter. You can meet our staff and to discuss our programmes in detail, and meet with current students who will show you around the university.
Taster Days
These are a great way of experiencing what studying at GHSM at King's College London is like. These sessions last half a day during which you can learn more about the key research topics in Global Health & Social Medicine. Taster Days run throughout the academic year. For further information click here.
Virtual Open Days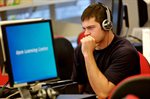 If you are not able to attend one of our open days at King's, the virtual open day provides a snapshot of some of the key benefits of studying at King's but in a multimedia format. You can get a taster, see some of King's and hear directly from some of our staff and students.   There is a collection of films offering advice on admissions, accommodation, studying and making the most of student life in London. You can experience a virtual tour of our campuses to see the facilities on offer. Click here for further details.
Open days
Open Days
We hold Open Days for prospective undergraduate and postgraduate students. These events give you the opportunity to find out more about our programmes of study, look around our campuses and get a feel of life at King's. For more information, go to Visit King's webpage.
Faculty Offer Holder Events for Undergraduates
Students who receive an offer to study at undergraduate level at King's are usually invited to an Offer Holder Event, so our prospective students get a greater insight into what it is like to study at King's. Details of these events will be sent to offer holders early on in 2017.
Clinical Transfer Open Days
The Faculty holds an annual Open Day for prospective medical students from Oxford and Cambridge universities who have obtained their BSc honours degree and who wish to continue their medical training in London. The open day for September 2016 entry has taken place.
Open Days & Offer Holder Events
Open Days & Campus Tours
Open Days are a great way to learn more our school and to meet current students. Use it as your opportunity to discover what life is really like as a Management student.
During an Open Day, each department will run their own departmental session, which various from a thirty minute to an hour slot. Each Management session will be run by one of our own academics.
Typically our sessions include an introduction to the programme, an overview of the modules, and/or a taster lecture. During Open Days there is also a 'Management Hub' available, here you will find current Management students, an undergraduate programme officer and/or an academic from our school. The Management  hub is available for any queries you may have on the day about the programme.
Central departments such as Admissions, Study Abroad and the Accommodation Team, are also made available for Open Days.
King's College London also holds Offer Holder Events, for students who already hold a conditional or unconditional offer for our programmes. These events usually consist of programme presentations held by our school admission tutors, and a question and answer session.
More information about King's Open Days and Offer Holder Events can be found below:
Open Days– Undergraduate

Open Evenings– Postgraduate
(for student's who have applied or are thinking about applying to King's College London)
Offer Holder Events- Undergraduate
(for student's who hold an offer for King's College London)
The next Offer Holder Event for our Undergraduate programmes can be found on the following link:
http://www.kcl.ac.uk/study/offer-holders/undergraduate/events.aspx
If you are interested in studying an undergraduate programme in our school, you can book an offer holder event under the Arts & Humanities/Social Science & Public Policy Events section.
Virtual Fairs
Unable to attend an Open Day? Try our Virtual Fairs.
If you are unable to visit us in person, you may want to consider signing up to a virtual fair. The virtual fair allows prospective students to speak directly to King's staff and current students. Details on how to register can be found here on the Virtual Fairs page.
Campus Tours
Guided Tours
During weekdays, King's offer guided tours for all campuses. For prospective students interested in the School of Management & Business, we recommend booking the Strand Campus Tour, this includes a tour extension of the Waterloo Campus. For more details about Campus Tours and how to book a tour, please see the Visit King's webpage on the following link: http://www.kcl.ac.uk/study/visit/campus-tours.aspx 
Self Guided Tours
Students are welcome to visit the Waterloo Campus and the School of Management & Business, Monday-Friday 09:00-17:00.
Simply go to the reception desk at the front of the Franklin-Wilkins Building, as you come through the main entrance, and collect a copy of the tour guide notes. More information about Self Guided yours can be found on the following Visit King's webpage: http://www.kcl.ac.uk/study/visit/self-guided-campus-tours.aspx