King's College London Student Union
King's College London Student Union
Student life
Students' union
A papier-mâché version of Reggie the Lion, the mascot of KCLSU, outside the Great Hall in King's Strand Campus
The former President of KCLSU, Sir Ivison Macadam, after whom the Students' Union building on the Strand Campus (Macadam Building) has since been named, went on to be elected as the first President of the National Union of Students.
"Reggie the Lion" (informally "Reggie") is the official mascot of the Students' Union. In total there are four Reggies in existence. The original can be found on display in the Macadam Building in the Students' Union student centre at the Strand Campus. A papier-mâché Reggie lives outside the Great Hall at the Strand Campus. The third Reggie, given as a gift by alumnus Willie Kwan, guards the entrance of Willies Common Room in Somerset House East Wing. A small sterling silver incarnation is displayed during graduation ceremonies, which was presented to King's by former Halliburton Professor of Physiology, Robert John Stewart McDowall, in 1959.
Student media
KCLSU Student Media won Student Media of the Year 2014 at the Ents Forum awards and came in the top three student media outlets in the country at the NUS Awards 2014.
Roar News is a tabloid newspaper for students at King's which is owned and funded by KCLSU. It is editorially independent of both the university and the students' union and its award-winning website is read by tens of thousands of people per month in over 100 countries. In 2014 it had a successful awards season, scooping several national awards and commendations, including a Mind Media Award and Student Media of the Year.
The radio station of KCLSU, KCL Radio, was founded in 2009 as a podcast producer. The first live broadcast of KCL Radio was in 2011 at the London Varsity. In 2013, KCL Radio relaunched as a live station with more than 45 hours of live programming a week. The schedule of the radio station includes news, music, entertainment, debate, sport and live performance.
Other King's student media groups include the student television station KingsTV, and the photographic society KCLSU PhotoSoc.
Students' Union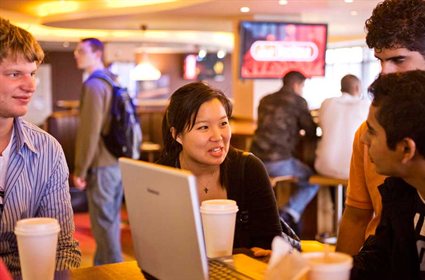 Membership
As a student at King's, you are automatically a member of King's College Student's Union (KCLSU). Your membership to the Union is free and brings with it a number of opportunities for you to get the most out of your time at King's and in London.
Services and support
Our award-winning students' union, King's College London Students' Union or KCLSU for short, supports students all through their time at King's. KCLUS organise social, sporting and cultural activities, provide opportunities to develop skills, ensure students can voice their opinions as well as being there with advice and support when it is needed.
University of London
As a student at King's you are also able to use the facilities of the University of London Union (ULU).
Discount card
And as a student attending university in the UK, you are eligible to apply for an NUS card, which offers discounts in a number of retailers. The National Union of Students (NUS) represents all students in the UK
Contact us
Switchboard (general enquiries)
Telephone: +44 (0) 20 7836 5454
Postal address
Please be sure to include the recipient's name and department in the address.
King's College London
Strand
London
WC2R 2LS
United Kingdom