King's College London Quadrangle
King's College London Quadrangle
The Quadrangle, Strand Campus – Learning Commons Design Consultation
A major project to transform the Strand Campus Quadrangle into a 'Learning Commons' has taken its first steps with the recent launch of a campus-wide consultation with students and staff.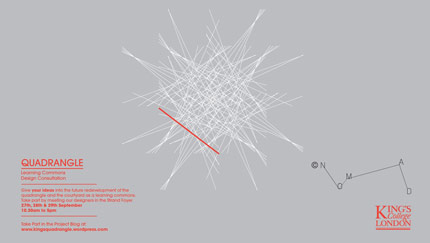 The Strand Campus has seen rapid growth in student numbers in recent years and it is anticipated that this trend will continue for the foreseeable future. The development of the Quadrangle project will address a significant number of spatial and organisational issues with the current campus but most importantly will create a student-centered heart for the College's busiest campus. It is anticipated that the space will form a bridge between the King's Building and Somerset House by regenerating the deck and lower floors of the Quadrangle area, transforming a rather unlovely area of subterranean space into an innovative, light, flexible space for students suitable, for both formal and informal study.
To facilitate the architectural process and to help develop the ambitions for the project, the College has appointed Nomad RDC, a design consultancy who specialise in generating 'people centered' solutions by working the end users of the space.
The project will have four phases. In phase one the team at Nomad will work with students and staff to understand what a learning commons should mean for King's. This will generate a brief or vision for the project based on their thoughts and ideas. In the second phase the College will work with RIBA to run a competition aimed at selecting a concept architect and landscape designer. The third and fourth phases will include the design development and build of the new space.
Over the next few months the designers will be visiting the College regularly to engage with students and staff. To facilitate the consultation project the team has launched a project blog at www.kingsquadrangle.wordpress.com. This will act as a central information source, where news and events will be regularly updated and as place where students can interact directly with the designers by leaving comments or taking part in polls.
The first consultation sessions will take place on 27, 28 and 29 September when the design team will be hoping to speak directly to students about the project. The team will have a pod set up in the Strand Foyer between 10.30 and 17.00 so please do drop by and give them your views.
Alternatively visit the blog and share your ideas there.