King's College London Medicine Open Day
King's College London Medicine Open Day
Social Science, Health & Medicine – Open Days
The  Department of Social Science, Health & Medicine welcomes visitors at its taster days or during the various pre- and post-offer open days arranged by the College.
Undergraduate Open Days
King's College London holds Pre-application Open Days for prospective students (ie, those in Year 12 or equivalent). For further information click here.
The  Department also takes part in post-offer Open Days on selected dates between January and March. The admissions team will tell you about the Department's degrees and the careers that our graduates enter. You can meet our staff and to discuss our programmes in detail, and meet with current students who will show you around the College. For further information click here.
Taster Days
These are a great way of experiencing what studying at SSHM at King's College London is like. These sessions last half a day during which you can learn more about the key research topics in Social Science, Health & Medicine. Taster Days run throughout the academic year. For further information click here.
Postgraduate Open Evenings
A postgraduate open evening is an excellent opportunity to find out more about the programmes offered at King's College London.
You will get the opportunity to speak to staff and students, hear from our Graduate School, tour the campus, and meet our student support teams.
Book your place at one of our open evenings here.
Virtual Open Days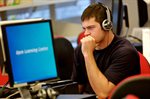 If you are not able to attend one of our open days at King's, the virtual open day provides a snapshot of some of the key benefits of studying at King's but in a multimedia format. You can get a taster, see some of King's and hear directly from some of our staff and students.   There is a collection of films offering advice on admissions, accommodation, studying and making the most of student life in London. You can experience a virtual tour of our campuses to see the facilities on offer. Click here for further details.