King's College London K+
King's College London K+
Widening Participation
K +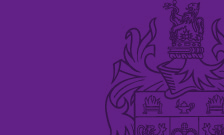 As part of the College's 'access agreement' which is required given that the annual undergraduate tuition fees charged by the College are at the maximum £9000 level, the College has set up a widening participation scheme known as K+.
K+ is targeted at pupils who have a strong academic performance at GCSE.
A summer school for K+ students took place in Summer 2012. The Department of Mathematics was involved in this and hosted six one hour sessions on mathematics and subjects that use mathematics.
More detailed information about K+, including how to be involved, can be found on theKing's widening participation webpages.
What is K+?
K+: Our flagship programme from KCL Widening Participation on Vimeo.
K+ is a two-year programme of events, activities and academic workshops created to help support your university application and provide the skills you need to reach your potential as an undergraduate student.
Use the links below to explore K+ and find out how it could help you. You can also watch our K+ video and find out if you could apply for the programme.
K+ gave me a platform to cultivate who I am.
Applications for the sixth cohort of K+ open on the 5th September 2016. Read on to find out more about K+ and how to apply.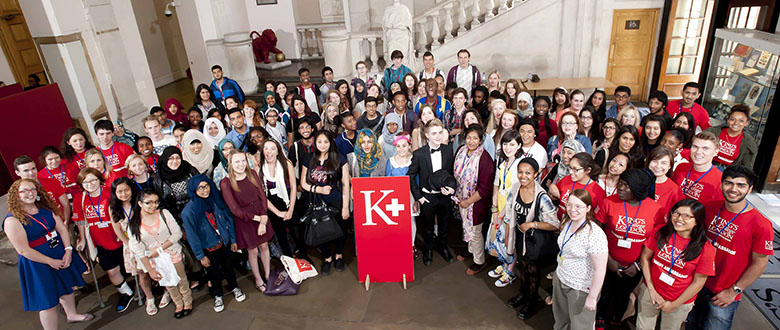 Tell me more about K+…
We'd be happy to!
K+ is a programme specially designed for students aged 16 and over, who are part of under-represented groups. It's designed to give you the knowledge, confidence and skills you need to begin your university journey. It's completely free of charge and we can even help with your travel, too.
As a K+ student, you'll:
Learn and practice key study skills and create an academic project
Attend our K+ Spotlight Summer School
Get support and guidance, including a student e-mentor
Take part in academic master classes, cultural visits and career experiences.
Your two-year experience will include:
A current King's student as your e-mentor
Taster lectures and master classes
Cultural trips and experiences
Careers advice and work experience opportunities
Support and guidance on applying to and preparing for university
Help from a PhD tutor to create an academic project
A summer school experience
And much more!
Who is it for?
K+ is for Year 12 students, in state schools/colleges in Greater London. Your school/college is eligible, as long as it is a state school, with no entry tests to get in (non-selective).
Students who are eligible:
Have achieved at least 8 A*-C grades at GCSE or equivalent, including English Language and Maths, with a minimum of 5 A or A* grades
Do not have parents or carers who have studied at university in the UK or abroad.
We'd really love to hear from students who live or have lived in local authority care, are young carers themselves or are disabled. We'd also welcome applications from male students, as they're currently under-represented on the programme.
How will K+ help my application to King's?
Students who successfully complete the programme may be eligible for the K+ variable offer worth up to two A-level grades lower than the standard offer (excluding medicine and dentistry). Please download our factsheet for further details.
We'll also make sure that all K+ students who apply to study at King's as an undergraduate are given additional consideration. This will vary from course to course and person to person – you can read more about additional consideration in our FAQs.
To be eligible for additional consideration, you must complete the full two years of the K+ programme and attend all events, catch up regularly with your e-mentor and complete the K+ academic project.
Remember that taking part in K+ is not a guarantee of a place at King's. Similarly, if you miss out on a place on K+ this won't affect your application if you decide to study at King's in the future.
Do you offer any scholarship programmes for K+ students?
We're really excited to announce that we're now offering K+ Start Up Scholarships for students who have completed the K+ scheme and go on to enrol at King's.
Scholarships of between £500 and £1000 will be awarded thanks to the generous support of our alumni community. We hope this money will help students settle in to life at King's.
We know that the first few weeks of university can be the most expensive, so scholarships will be paid directly into bank accounts when you start your time at King's. The money is available for you to spend on important things like equipment, textbooks and even duvet covers!
There's no need to apply for these scholarships – they are automatically allocated to students who have made a note of their K+ participation on their UCAS form, as advised by the Widening Participation Department.
What do other people say about K+?
We've had lots of amazing feedback from pupils and parents who have experienced the benefits of K+ – here's what they had to say:
"K+ has given me an unbelievable insight into how uni life is going to pan out and what I can look forward to. This is down to the incredible hard work and enthusiasm shown by everyone at K+ and making me feel so supported when deciding what happens next after I leave sixth form."
Serena, K+ student
"Everything I have been to, I've made a new friend. And you feel like you're part of a community. I love being on K+!"
Ayla, K+ student
"The biggest skill K+ has developed in me is added confidence, which will stay with me throughout my A-level studies and time at university."
Connor, K+ student
"I found the programme has helped my son enormously; giving him a great insight into university life, boosted his confidence in and out of the classroom, broadened his knowledge and left him with such a valuable experience that he could have got nowhere else."
Joanne, K+ parent
"The programme has helped us as parents immensely. We see the "K+ Effect" first hand on a day-to-day basis with our daughter. I would like to thank everyone at King's for giving me the "K+ Effect" as well. My educational background was not a happy one, but K+ has provided me with a renewed lease of life to education which, in the long-run will help me, and also enable me to help my daughter.  Thank you, thank you, thank you K+!"
Dilly, K+ parent
"One thing that K+ gave me, which nothing else did, was the chance to talk to current students in a comfortable and informal session. It's nice to just sit and chat with them, where there's a mutual interest in each other's studies."
Eireann, K+ graduate now studying at Cambridge University
"When running  my K+ session, there was a general excitement amongst the students at encountering these new experiences. It's a great thing for participants and for lecturers who are reminded of that first buzz on discovering their subject!"
Dr Wyles, King's academic
K+ Start up Scholarship 2017-18
K+ Start-Up Scholarships of up to £1,000 available for students who successfully complete the College's K+ programme and start at King's in September 2017.
What is the K+ Start Up Scholarship?
K+ Start-Up Scholarships of up to £1,000 will be awarded to students who have successfully applied for a place at King's College London and have completed the College's K+ programme for Year 12 and 13 students in London and Greater London.
The money is intended to help students to settle into university life and purchase any key materials. Successful students will be contacted and paid before the end of October 2016.
You do not need to apply for the scholarship – you will be contacted once your eligibility has been confirmed. Should the bursaries be oversubscribed the College retains the right to select recipients on the basis of financial need.
These awards are generously supported by our alumni community.
Where can I get further information?
To find out more about the Scholarship scheme, please contact the Student Funding Office.
Disclaimer
The College has tried to give students an early opportunity to begin their research of student funding. Although every effort has been made to ensure that information provided is both helpful to prospective candidates and accurate at the time of its publication, it is possible that some information may be outdated or superseded before the start of the 2017-18 academic year.