King's College London Distance Learning
King's College London Distance Learning
Online and Distance Learning
Online Learning
The Dickson Poon School of Law offers online courses which give learners access to King's expertise from anywhere in the world. Taught entirely online, the courses offers maximum flexibility by allowing you to fit learning in around your other commitments.
Distance Learning
The Dickson Poon School of Law offers various distance learning PG Diploma, MA and MSc courses which combine distance learning via online and/or paper-based materials with residential weekends.
Our Address
Unit of Distance Learning King's College London Dental Institute Guy's Campus Floor 18, Tower Wing St Thomas' Street London SE1 9RT United Kingdom
Tel: +44 (0)207 188 6444 email: distancedentistry@kcl.ac.uk
Visit Us
Postgraduate open evenings
Our postgraduate open evenings give you an opportunity to meet our academics and speak with current students. More information about upcoming  events is available here.
King's live chats
Can't visit us in person? Join one of our online chats and speak to Admissions and faculty staff by following this link.
Distance Learning
King's College London Dental Institute pioneered distance learning in dentistry and is one of the leading providers of online postgraduate dental education in the world. Our first flexible learning course in Dental Radiology was launched in 1990, and now, with over 25 years' experience, we deliver postgraduate dental education to students in more than 50 countries.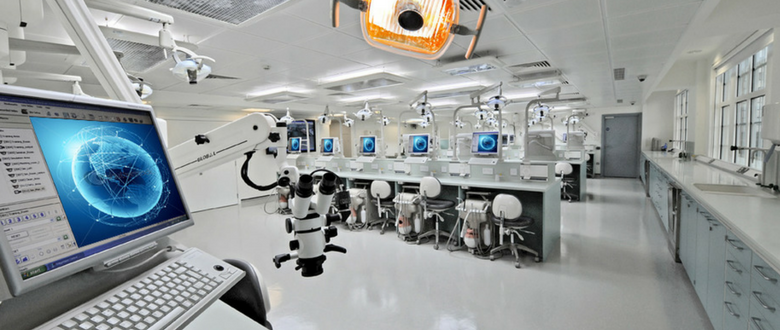 A unique blended learning approach
Our approach brings together the expertise of academic and administrative staff, committed to delivering online flexible learning.
Our courses are written and taught by leading King's College London Dental Institute academics. Top external dental professionals also write course materials and are invited to teach on the integral blocks of face-to-face training included in all courses.
Each programme offers a blended learning approach, combining online learning, clinical practice and face-to-face campus activity, which enables students to work in practice while studying.
We use interactive online webinars to conduct tutorials, seminars and lectures. Students have the opportunity to hear, contribute to and record the sessions for future reference, all from the comfort of their home or workplace.
Content covered can be implemented immediately in practice, one of the main benefits of blended learning. This clinical practice time can then be used as case study material for the course.
Each programme includes intensive blocks of face-to-face teaching at specialist facilities, providing hands-on experience and the opportunity to connect with peers.
Distance learning courses