King's College London Award
King's College London Award
King's Experience Awards
King's Experience Awards are given for learning that you undertake outside the formal curriculum. They are based on your experiential learning, which can include volunteering in local or international contexts, paid employment, or undertaking additional learning, such as learning another language.
The King's Experience Awards require you to combine experiential learning with further, supported reflection and study, and to submit an assessment. Your assessment can be traditional (such as an essay), or more innovative (such as a website or a video).
The King's Experience Awards provide opportunities for you to enhance your learning and your employability, by broadening and deepening your experience and by recognising and rewarding the activities you undertake alongside your formal studies.
The King's Experience Awards are made up of the following awards:
Videos and pictures from the 2016 King's Experience Award Ceremony and reception can be seen on the 2016 KE Ceremony page.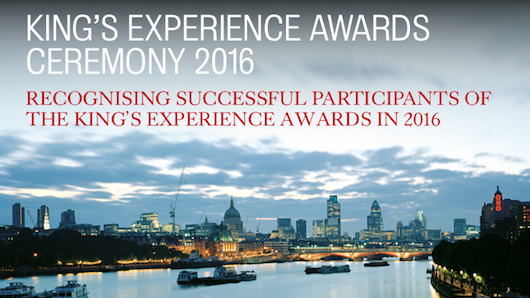 Funding & Awards
The College is committed to enhancing teaching and recognising excellent practice with a central fund to encourage staff to develop innovative teaching.
With the Teaching Excellence Awards students are given the opportunity each year to nominate individuals in recognition of outstanding teaching from across the College.
In addition to the College's opportunities for funding and awards, the College nominates three exceptional individuals engaged in teaching for the National Teaching Fellowship Scheme (NTFS) Individual Awards. Dr Mark Miodownik and Sharon Markless are recipients of this prestigious award and are National Teaching Fellows.
Contact us
Switchboard (general enquiries)
Telephone: +44 (0) 20 7836 5454
Postal address
Please be sure to include the recipient's name and department in the address.
King's College London
Strand
London
WC2R 2LS
United Kingdom