Imperial College London nhs
We are Imperial College Healthcare 
WHO WE ARE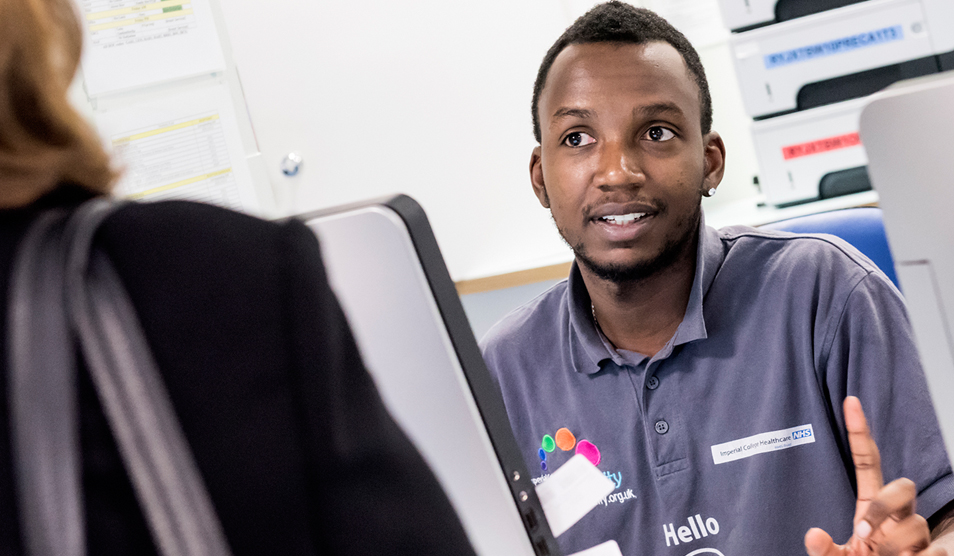 We are an NHS Trust of 10,000 people, providing care for around a million people every year, in our five hospitals and a growing number of community services in north west London.  We have a rich heritage and an ambitious vision for the future of our patients and local communities.  We want you to know all about who we are, what we do and where we are heading.
Where to go for care
Click here for information on where to go and who to call for medical advice and treatment when you are feeling unwell or have had an accident.
Always call 999 immediately if you or somebody else has a life-threatening injury or illness.
Changing or cancelling your appointment
Check your appointment letter for details of how to change or cancel your appointment. If unsure, contact our central booking team on 020 3313 5000 or email: APPOINTMENTS@IMPERIAL.NHS.UK. Our central booking office is open 08.00 to 20.00, Monday to Friday.
If your first appointment with us was made through NHS e-Referral Service (previously known as Choose and Book) call the NHS e-Referral Service appointments line on 0345 60 88888 to reschedule your appointment.
OUTPATIENT INFORMATION
Changing your admission date
If you need to cancel or rearrange your admission date please let us know as soon as possible by calling the number on your admissions letter in the first instance. Alternatively you can call: 0203 311 6611 or email: ADMISSIONS@IMPERIAL.NHS.UK. Our opening times are 8.00 to 20.00, Monday to Friday. We will try and arrange a new date, which is convenient for you.
INPATIENT INFORMATION
Interpreting services
If you need a foreign language interpreter or sign language interpreter, please tell your GP. They will advise us when they refer you to our services and we will organise an interpreter for you. If you have not told your GP, please contact us directly at least 48 hours before your appointment or admission on 020 3311 7697, or by emailing: INTERPRETER.BOOKINGS@IMPERIAL.NHS.UK. Often our interpreter services are provided by phone.
Patient transport
If you feel you require support getting to and from hospital, call our transport assessment team on 020 331 15353 (Monday to Friday, 9.00 to 17.00).
PATIENT TRANSPORT SERVICE
Services and clinic information
Our service directory provides information including contact details, clinic information, and referral advice for each of our clinical services.
SERVICE DIRECTORY
Maternity helpline
The maternity helpline 020 3312 6135 is operated by experienced midwives from 10.00 to 17.30 Monday through Friday. This has been developed to provide women and their families with direct and easy access to maternity-related information.
MATERNITY SERVICES
Accessing my health record
All applications to see your Imperial College Healthcare NHS Trust health records must be made in writing either by completing an application for health records form, email or letter.
Requests should be sent either by:
email to: ACCESSTOHEALTHRECORDS@IMPERIAL.NHS.UK
post to: Access to Health Records, Health Records Department, Hammersmith Hospital, Du Cane Road, London W12 0HS
Read further information about my health record
Chaplaincy
Our chaplaincy team offers confidential spiritual, religious and pastoral care to patients, visitors and staff, of all faiths, beliefs, religions and non-religions across our five hospital sites.
CONTACT THE CHAPLAINCY TEAM
Feedback, compliments and complaints
Contact our Patient Advice and Liaison Service (PALS) if you:
have a concern, problem, suggestion or query
need support or help
would like to feedback on your experience
would like to request a copy of your medical record.
Imperial College London nhs
Contact us
Main address
Imperial College Healthcare NHS Trust
The Bays
South Wharf Road
St Mary's Hospital
London W2 1NY
020 3311 3311