Falmouth University Boat Building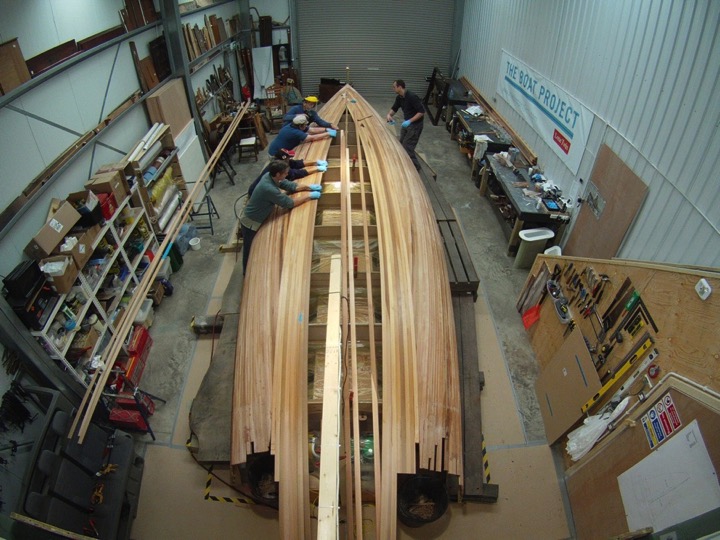 Boat and ship builders and repairers construct, install and repair wooden structures and fittings, and shape, position, rivet and seal metal plates and girders to form the metal structures and frameworks for marine craft.
The course is designed to enable you to attain the skills needed, to find jobs in the marine industry. Alternatively you may wish to establish yourself as bespoke boat builder and set up your own business or you may wish to use the transferable skills learned, to pursue a career complementary to boatbuilding, such as furniture making or joinery, or find employment in the burgeoning array of composite technology industries.

Some may simply enjoy the experience, as a well-deserved sabbatical, creating and repairing boats, learning new skills, in a friendly atmosphere, with likeminded people.

The 36 week Boat Building and Restoration Diploma, will incorporate the internationally recognised City & Guilds 2463 Level 3 Diploma in Boatbuilding and will be covered in the first 13 weeks of the course. These sessions are intensive and focused, and are structured around you developing your skills and techniques, using primarily, hand tools. You'll make your own tool box, and some useful boat builder's tools; a spar gauge, a brass bevel gauge, a boat knife and leather sheath, a mallet and a bollow plane. During this period you will also learn the basics of Fiber Reinforced Plastics (FRP), construction techniques, and you will produce a fibreglass model of a Falmouth Working boat.

The accompanying theory sessions will cover everything from health and safety in the boatyard, to lofting, construction methods and final finishing, and are outlined in the accompanying City & Guilds Boatbuilding Handbook.

You will be taught by (and work alongside), skilled, time-served experienced boat builders who will encourage and challenge you to develop your skills. After the initial first 12 weeks at the bench, you will begin testing your newfound hand skills working on live boat projects with a variety of different construction methods, both traditional, and contemporary. This phase of the course is focused, directed and intense. 80% of your time will be spent in the workshops learning different construction and repair methods and techniques, problem-solving skills, surface finishing, and fitting out.

During the second phase of the course, particularly, theory is taught alongside the practical application of your developing skills, as we build and repair boats on the shop floor. We recognise that some students will have some previous experience, or learn new skills at different speeds, and we will structure your progression through the course to suit your particular needs.

The course will include, but not be limited to, workshop and theory modules incorporating:
• Bench and Yacht Joinery techniques
• Shaping timber, plywood, and composite materials, using hand & power tools.
• Wood-working machinery competency
• Lofting and developments
• Setting up a boatbuilding strong back
• Installing a stem, backbone and transom assembly to a strong back building jig.
• Setting up building moulds, lining off and horning – in.
• Modern Wooden Boatbuilding techniques using epoxy resins
• Traditional Clinker and Carvel planking methods
• Deck Laying, planning and correct setting out, both traditional and composite.
• Installing watertight Hull and Deck Fittings on wood and GRP vessels
• Fitting Engine Bearers and Shaft alignment , using workshop jigs
• Finishing techniques, Painting and Varnishing
• G.R.P hand lay-up techniques
• Composite technology, including resin infusion and injection moulding
• GRP Boat Repairs
• Mould Making
• Wooden Boat Repairs and Restoration
• Interpreting Yacht Surveyor's reports
• Pricing and estimating for repairs and restoration
• Scribing and fixing internal Furniture –Mould Making
• Spar and Oar Making
• Basic Splicing, and Cordage
• Leather work & Knife making
• Tool making.

Falmouth Marine School has been delivering apprenticeship training to the boatbuilding and shipbuilding industry since 1920, and have been running fulltime boatbuilding courses since the early 1970's. We are a recognised R.Y.A Training Centre, and have the benefit of being positioned at the center of an extensive maritime industrial area. Many of our past alumni have sent up marine businesses in this part of Cornwall, and continue to offer a wide variety of support and employment opportunities for our students. We are able to offer engagement with a variety of partners during the course, such as The National Maritime Museum in Cornwall (with whom we share a workshop building), King Harry & Cornwall Ferries (who operate a fleet of wooden ferries on the river Fal ) and the sailing charity Turn to Starboard (Sail training aboard the 90ft Schooner Spirit of Falmouth).

We have a fully equipped, purpose built F.R.P workshop, which enables us to deliver composite training and upskilling to industry, including; product development, resin transfer moulding, and resin infusion techniques.

We are part of the wider Cornwall College Group, which enables us to design a bespoke course to suit your particular needs. Cornwall College help to deliver all aspects of the award winning Pendennis Shipyard apprenticeship programme. This extensive, and industry developed, skillset of our teaching staff means we can offer a number of add-ons to your course, which can include; C.A.D design, a 30 hour MCA Marine Diesel course, Basic Welding, MCA STCW95, RYA Powerboat Level 2 and 3, Abrasive wheels course, Chain saw training, RYA first aid at sea.