E Learning King's College London
E Learning King's College London
E-learning
The Institute offers a number of resources that will allow you to learn at your own pace and from the location of your choice. Our e-learning material consists of a mixture of formal short courses, videos to watch, journal club and other online material.
Short e-learning course: Developing and evaluating complex interventions in palliative and end of life care (MORECare statement)

Registration: You can register at anytime. The course operates on an on-going enrolment basis. Registration link or www.tinyurl.com/MORECareCourse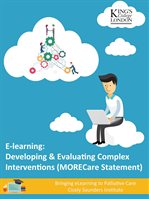 The course brochure including all the necessary information about the course can be downloaded here 
Target group: Postgraduate students, clinicians, researchers, ethical committees, editors and funders.
Objectives: The general objective of this course is to improve practice and current standards of developing and evaluating complex interventions. In particular, the course explains the best methods of designing and conducting research, which evaluates palliative and end-of-life care services and treatments using the MORECare Statement.
Course content: The course consists of six modules, which are framed around the MORECare Statement key areas  Module 1) Introduction to complex interventions and MORECare Statement; Module 2) Selection of outcome measures; Module 3) Use of outcome measures: Choosing and identifying time points; Module 4) Missing data, attrition and response shift; Module 5) Mixed methods; Module 6) Ethical considerations in palliative and and end-of-life care.
Duration: The time required to complete the six modules course is estimated at six to ten hours. This includes readings, presentations and quizzes. You might need more or less time to complete this module depending on many factors (your reading speed, mastery of English, familiarity with the subject, etc.). However, this course will allow you to learn at your own pace.
Cost:  £250
CPD: Approved by the Federation of the Royal Colleges of Physicians of the United Kingdom for 9 category 1 (external) CPD credits
Contact: For further information and registration, please contact hamid.benalia@kcl.ac.uk
Videos
The Cicely Saunders Institute Seminar Series videos:
The CSI seminar Series videos cover a wide range of subjects. Speakers include researchers clinicians in both palliative care and rehabilitation who present . The aims of our seminar are:
To address prominent and difficult areas of clinical practice relevant to palliative care and rehabilitation, and corresponding policy implications
To advance and promote methodological developments within palliative care and rehabilitation through learning from and influencing researchers, clinicians and other leaders within the field
To facilitate and optimise opportunities for local, national and international networking within palliative care and rehabilitation in order to improve practice, education and policy and the integration of research and clinical endeavours
The Cicely Saunders Institute Seminar Series videos can be viewed from our YouTube Channel (Link)
The Cicely Saunders Institute Annual Lecture videos:
Since 2011, the Cicely Saunders Institute has held a high profile annual lecture. Speakers at this event are global leaders whose work has significantly influenced the field. These lectures are a unique opportunity to learn from world leading clinicians and scientists and are aimed at clinicians and researchers. Previous speakers have included:
2011: Professor David Currow, Flinders University, Australia: 'Palliative Care Research – what is the return on investment'
2012: Professor Kathy Foley, Memorial Sloan Kettering Cancer Center, USA: 'International and national policies for palliative care: can they make a difference?'
2013: Professor Diane Meier, Icahn School of Medicine at Mount Sinai, USA: 'Can (or should) palliative care meet the challenge of care for persons with long term chronic illness versus remaining in our end-of-life corner?'
2014: Professor Stein Kaasa, Norwegian University of Science and Technology, Trondheim, Norway: 'Integration of palliative care into public health and cancer care: a vision for the future'
The Cicely Saunders Institute Annual Lecture videos can be viewed from our YouTube Channel (Link)
Conference and Events videos:
We host an ever-increasing number of events, conferences and training throughout the year. These events are presentations from experts covering a wide range of subjects in palliative care and rehabilitation. They are a great oportunity to learn and increase your understanding of important areas in the field. The videos are edited to maximise your learning by allowing you to see both the speaker and the slides.
These events can be viewed from our YouTube channel (Link)
Journal club:
In this section, we will suggest at least two papers (internal and external) every month for you to read and analyse. Academics/ clinicians of the departments have chosen these papers based on scientific, clinical or methodological value. We are confident you will find them interesting, thought provoking and challenging too. Feel free to tweet your comments, thoughts and reactions @CSI-KCL