Coventry University William Morris Building
Coventry University William Morris Building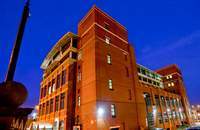 William Morris
CV1 5DL
This building began life in 1910 as a factory and has been named after the founder of the Morris car company who used this building as part of its engine production unit. It was converted for use by the University and is now occupied by our Faculty of Business and Law.
ABOUT US:
Coventry University is a public research university in the city of Coventry, England. The University was formerly known as Lanchester Polytechnic until 1987 and Coventry Polytechnic until it was awarded university status.
With more than 27,000 students (as of 2013), Coventry University is the larger of the two universities in the city, the other being the University of Warwick. It has three campuses: one in the city centre of Coventry where a large majority of the university operates, one in Scarborough, North Yorkshire and one in London. The campus in Coventry is currently undergoing a £160m redevelopment programme.  The university comprises four faculties and one school, and manages a number of commercial subsidiaries that provide business services to local and national organisations.
The university is a member of the Association of Commonwealth Universities,  University Alliance  and Universities UK.
Contact Us
Coventry University
Priory Street
Coventry, United Kingdom
CV1 5FB
Telephone: +44 (0) 24 7765 7688