Coventry University Visit Days
Coventry University Visit Days
Information for your Applicant Visit Day
Applicant Visit Days are by invitation only
You will only be able to attend this event if you are a Coventry University offer holder, or you are an applicant required to interview, audition or present a portfolio and have booked a place.
How it works
All offer holders or applicants that require an interview will be sent a personal invitation to book on to an event. You should have received an email on how to register your place.
Our Applicant Visit days are designed to help you get to know us better while you're exploring our campus and accommodation, and interacting with your future tutors and peers.
We want to show you what Coventry University has to offer to help your decision about starting your study and journey with us.
Come rain or shine!
Weather may be one of our favourite topics of conversations in Britain, but no matter what the weather – rain, wind or even snow – we will still be running our event to deliver you the information you want to know!
Please ensure that it is safe for you to travel and if the weather is especially bad near you, we will automatically re-invite you to a later date – with no need to contact us.
If you have booked on to an interview/audition/portfolio review and are unable to make it on, then please call the Recruitment and Admissions Office on 024 7765 2222 to let us know.
You will be able to rebook onto a later interview date and this will in no way affect your application!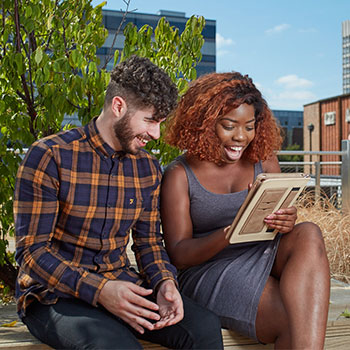 What to expect on the day
Head over to TheHub, the main students' building on campus, between 9:30am and 3:30pm to get involved with the activities* at our Information Fair, which include:
Speaking to staff from across the University and Students' Union about sports, societies, student services and more!
Taking a tour of the campus with a current student, where you can ask questions and check out our facilities.
Taking an accommodation tour to pick out where you could be living.
Asking the Admissions Team about any questions you have that relate to your offer.
Grabbing a quick bite to eat or hot drink from Starbucks to keep refreshed.
It's important to check your personal programme in case there are any changes to timings on the day to make sure you don't miss anything!