Coventry University Unconditional Offers
Coventry University Unconditional Offers
High Achievers' Unconditional Offer Scheme 2017
We love having high-achieving students choose to study at Coventry and we believe these students should be rewarded for all of their hard work with an unconditional offer from a top university. It is a commitment from us to support an applicants' potential as an excellent undergraduate and we hope that this will encourage such applicants to join the Coventry community.
Applicants' past, current and predicted performance and commitment to the course will be assessed, along with personal statements and references. For some degree courses, an interview will form part of the assessment.
The criteria for unconditional offers will vary across the University as entry requirements for specific courses differ and not all degree courses will be taking part in the Scheme. The unconditional offer will be confirmed once a selected applicant has made Coventry their firm choice.
Frequently Asked Questions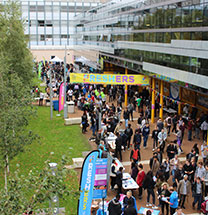 Why is Coventry University making unconditional offers to some applicants?
We want to recruit the best students to Coventry and having assessed your past, current and predicted performance we feel that it is appropriate to reward consistently high-achieving students with an unconditional offer from a top university. Recognising your commitment to Coventry University, it is a commitment from us with regard to your potential as an excellent undergraduate.
We hope that you will appreciate this and the removal of any uncertainty from the admissions process and that this will encourage you to join the Coventry community.
How can you be sure that I will achieve my predicted grades?
We can't but our experience over the years has shown us that students like you with a track record of high grades and excellent predictions are very likely to achieve those grades. Our assessment takes into account all elements of your application.
There is also the opportunity to gain one of the Coventry University Academic Excellence Scholarships if you achieve the required grades laid out in the criteria of the scholarship. This means there is a financial incentive to aim high. Unconditional offers are only made to individuals who have demonstrated their commitment so we believe their focus and determination is unlikely to waver in the final stages of their qualifications.
What if I don't get the predicted grades?
An unconditional offer is what it says it is. So if you don't meet your predictions then your place at Coventry is still guaranteed. However, we would hope and expect that you continue to work hard to make the most of your potential and be best prepared to study at university level.
Why do I have to choose you as 'firm' choice?
Coventry University has assessed that you are capable of achieving excellent grades and we have demonstrated this belief by making you an unconditional offer. This is our commitment to you so then we ask that you reciprocate this commitment by selecting us as your 'firm' choice and activating your unconditional offer.
How do you choose which applicants will receive an unconditional offer?
We have a set of criteria that we believe helps us select those applicants best suited to a pre-result unconditional offer. This includes an expected level of past performance and an expected level of predicted performance.
What if I'm not taking A-levels?
We will consider other qualifications for a pre-result unconditional offer providing that you have an appropriate proven performance at GCSE (or equivalent) level and predicted grades in line with grades that we expect to see at A-level.
Other qualifications that we may consider for a pre-result unconditional offer include: the International Baccalaureate Diploma, BTEC Level 3 qualifications, Cambridge Pre-U and combinations of qualifications (e.g. BTECS plus A-levels).
Are there any qualifications that you will not consider for a pre-result unconditional offer?
If you taking an Access or Foundation course we are unable to consider you for an unconditional offer as accurate final performance predictions are normally very difficult within the UCAS application timescale. Typically these courses are one year long and so predictions would need to be made by the referee very soon after the start of the course. This does not affect applicants with these qualifications from being eligible for the more standard conditional offer.
What if I don't have any AS results?
We understand that not all schools or colleges offer AS Levels or elect to cash in AS grades so we will consider you for a pre-result unconditional offer on the basis of your GCSE (or equivalent) achievement and A-level (or equivalent) predictions.
What if I don't have GCSE results?
If you don't have GCSE results (or equivalent year 11 results) we cannot consider you for a pre-result unconditional offer as a key part of our assessment is proven past performance. The exception to this condition is for students taking the International Baccalaureate as separate Year 11 qualifications are not taken.
Am I able to defer my unconditional offer?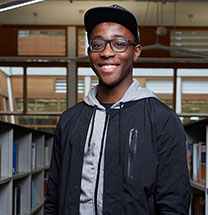 No, the unconditional offer is only available to those who will take up their place in 2017.
What happens if I change my degree course with Coventry or my Firm university choice?
The offer to make your place unconditional is limited to your current course, and so the unconditional offer will not be carried over if you change your selected course.
Also, if you change your choice of firm-choice university at a later date then the conditions attached to your original conditional offer will be reapplied.