Coventry University Student Union
Coventry University Student Union
The Students' Union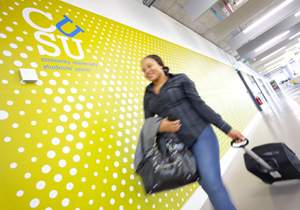 The Students' Union (CUSU) is the centre of student social and democratic life, with regular entertainment and social events. From world cinema screenings to themed club nights and live performances, CUSU organises a full calendar of events throughout the academic year.
CUSU is also the headquarters to the university's 80 or so clubs and societies and can provide free and confidential advice and support to students on a range of issues such as finance, housing and employment.
As soon as you enrol at Coventry University you automatically become a member of this student-run, democratic organisation.
ABOUT US:
Coventry University Students' Union, also known as CUSU, is the students' union for Coventry University, in Coventry, England.
The Students' Union is situated in The Hub with other facilities for sports and societies and media in another building in Priory Street, both buildings are on the main university campus; the Hub is used for students to socialise or study and is located in the heart of the city centre. The Students' Union was opened in the early 1960s and became a students' union that innovated in music performance, representation, campaigns and offering accredited academic programmes as part of its own services.
Contact Us
Coventry University
Priory Street
Coventry, United Kingdom
CV1 5FB
Telephone: +44 (0) 24 7765 7688