Coventry University Psychology
Coventry University Psychology
OVERVIEW
This course runs in 2017/18. 
If you are interested in why people think, feel, and behave the way they do then this could be the course for you. This course teaches you how to investigate people's thoughts, feelings, and behaviours using psychological research methods.
WHY CHOOSE THIS COURSE?
The degree is academically challenging and provides a comprehensive foundation of psychological theory and research from a variety of perspectives and approaches.
If you choose this course you will benefit from:
current accreditation by the British Psychological Society (BPS) meaning that as a graduate, provided you achieve at least a 2:2, you will be eligible for the Graduate Basis for Chartered Membership (GBC);
links with the Local Education Authority (LEA), local schools and numerous health care providers;
guest lectures by experts from outside of the School including practising psychologists and researchers in psychology who ensure you are exposed to the latest research and developments in psychology;
teaching by experienced teachers and researchers;
opportunities to apply to work with staff on research projects, as a student research assistant;
a personal tutoring system, which is integrated into taught modules at all levels, to enhance employability through the development of transferable skills such as presentation skills, group work, conducting literature reviews and critical analysis;
a work experience module in the second year that can give you valuable experience, develop new skills and increase your appeal to potential employers;
the opportunity to join the Psychology Society. This is a group run by students in collaboration with staff. Events are largely social by nature but with an academic twist;
the chance to apply for a year of work placement;
an option to take a year-out of the degree to study abroad on the Erasmus programme;
the opportunity to go on field trips which have included: Amsterdam, San Francisco and Tokyo.
Accreditation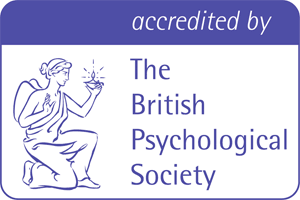 Accreditations shall be renewed in accordance with the accreditor's standard review process and subject to the University maintaining the same high standards of course delivery.
WHAT WILL I LEARN?
Years one and two are structured around the key areas of psychology including biological psychology, social psychology, cognitive psychology, developmental psychology and individual differences. You will also be taught how to conduct psychological research within these key areas, gaining knowledge and experience in research methods and statistical analyses used by psychologists.
In year two you will also partake in a work experience module with an external organisation. This will give you valuable experience and skill development to enhance your employability.
In the final year you will design and conduct your own research. You will analyse and present your results in a final year project dissertation.
Your final year also includes a range of applied modular options including: forensic, clinical and counselling, occupational, health, educational, advanced social psychology, and brain and behaviour.
HOW WILL THIS COURSE BE TAUGHT?
Your course will be based on a series of lectures, with associated seminars, practical workshops and personal tutorials. In addition, your personal tutor will be available for one-to-one bookable meetings, and will regularly review and discuss your progress and continual personal development.
HOW WILL I BE ASSESSED?
An estimated percentage breakdown of how your final grade is assessed:
formal examinations 40%;
coursework, tests, essays 30%;
practical or project work 30%.
A compulsory Add+vantage module must also be completed: please see the page on the Add+vantage scheme for more details.
TEACHING CONTACT HOURS
In a typical teaching week you will have up to 14 contact hours of study and this will break down as:
Personal tutorial/small group teaching: 1 hour of tutorial each week.
Medium-group teaching: 5 hours of workshops or seminars each week.
Large-group teaching: 8 hours of lectures each week.
Personal study: 26.5 hours each week studying and revising in your own time. There is also the option to make appointments with tutors in their available office hours.
Entry Requirements
Essential Entry Requirements: 
5 GCSEs at grade A*-C including English Language and Mathematics, or specified equivalents.
Typical Offers 
A-Levels: BBB. Excludes General Studies.
BTEC Level 3 Extended Diploma: DDM 
Access: The Access Diploma in a Science or Health subject to include 30 Level 3 credits at Distinction. 
International Baccalaureate Diploma: 30 points to include 15 points at Higher level.
Find out more about acceptable equivalent qualifications here. 
English as a Foreign Language: an IELTS 6.0 overall, with no component lower than 5.5.
If you don't have the required level of English then view our range of Pre-Sessional English courses.
How will this course enhance my career prospects?
Many of our graduates work as psychologists but also go on to become researchers, lecturers, teachers, administrators, practitioners, managers, or health and care professionals. The course has been designed to equip students with a range of skills and competencies that will set you apart from other graduates and make you attractive to potential employers. Our tutorial system focuses on the development of skills such as group work, literature reviewing, critical analysis and being able to construct and deliver presentations.
In year two students gain vital work experience in a mandatory, work placement module (subject to application). There is also the opportunity to undergo a sandwich-course over four years with one year out on work placement. All placement opportunities are supported by staff members from the Employability Placement Unit who are specialists in identifying suitable opportunities and have links with various external organisations.
Coventry University is committed to preparing you for your future career and giving you a competitive edge in the graduate job market. The University's Careers and Employability team provide a wide range of support services to help you plan and prepare for your career.
NO HIDDEN EXTRAS
Included in the fees:
Tuition fee waiver for placement and study abroad year;
Specified core reading material;
Any mandatory UK residential field trips;
Any mandatory UK site visits and trips;
1,000 sides of black and white laser prints;
Student membership of the British Psychological Society for the final year of the course;
Costs of any mandatory UK day visits;
Disclosure and Barring Service (formally CRB Disclosure) for those undertaking placements with children;
Free copy of SPSS statistics software.
Additional costs not included in the fees:
Any optional overseas field trips or visits: £400+ per trip.
Find out more about No Hidden Extras here. 
No Hidden Extras is part of our student promise, and by accepting your offer of a place with us, a Student Contract will be formed between you and the University.
ADD+VANTAGE
The focus on preparing students for successful futures sets Coventry apart as a university. The key: developing and enhancing students' employability, and delivering a serious competitive advantage in the jobs market. At Coventry, that starts right from the beginning.
The Add+vantage modules teach a range of work experience and extra-curricular activities that are taken each year, and which broaden students knowledge and skills within a work focused environment. There is a very broad range of Add+vantage free-choice subject areas, and they are arranged in themes.
OPPORTUNITIES FOR AN INTERNATIONAL EXPERIENCE
You will be given the opportunity to apply to study abroad for a year in a European university, in between years two and three of your course. This would be additional study and would provide you with an international experience, which can be viewed favourably by potential employers. We have links with 20 universities across Europe. These are largely English speaking but there is the opportunity to learn and attend courses in a foreign language. In your year away you would not be charged fees and would expect to receive a contribution to living expenses through the Erasmus scheme.
GLOBAL LEADERS PROGRAMME
Did you know we help more students travel internationally than any other UK university according to data from the experts in higher education data and analysis, HESA?
In 2014/15, we were able to provide a total of 2,264 student experiences abroad that lasted at least five days, 73% of which were our own organised trips for undergraduates and 27% from postgraduate travel. Plus, we've been able to help more than 5,000 students spend time in other countries, from America to China, India and beyond.
Much of this travel is made possible through our Global Leaders Programme, which enables students to prepare for the challenges of the global employment market, as well as strengthening and developing their broader personal and professional skills.
The objectives of the programme, in which eligible undergraduate and postgraduate students can participate, is to provide practical career workshops and enable participants to experience different business cultures.