Coventry University Occupational Therapy
Coventry University Occupational Therapy
Occupational Therapy BSc (Hons)
OVERVIEW
This course runs in 2017/18. 
Occupational Therapists work with people of all ages with mental, physical and social difficulties. This course will enable you to develop the necessary skills to support these people in leading healthy and fulfilling lives.
WHY CHOOSE THIS COURSE?
Upon successful completion of your course, you are eligible to apply to practise as an evidence-based, autonomous occupational therapist. This course is designed to enable you to develop a variety of skills to work with people across a variety of contexts. These skills include: communication, therapeutic interventions and entrepreneurship.
If you choose this course you may benefit from:
a huge variety of placement experiences. Practice placement marks can contribute to your final degree classification;
our strong links with a wide range of local health trusts, social services, private health, charitable and voluntary organisations who provide practice development activities;
option modules at Level 3 to allow specialism for future career and further enhance employability;
a commitment to working in partnership with students to continually develop and
further enhance the programme which has been running for over 25 years;
Accreditation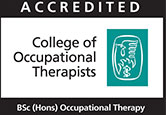 Accreditations shall be renewed in accordance with the accreditors standard review process and subject to the University maintaining the same high standards of course delivery.
WHAT WILL I LEARN?
The course has been designed to provide a practical-focused approach for the personal and professional development of occupational therapists. It will be underpinned by the principles of empowerment, self-awareness and individual responsibility in order to prepare you to work within changing health and social care environments.
HOW WILL THIS COURSE BE TAUGHT?