Coventry University Occupational Therapy
Coventry University Occupational Therapy
Occupational Therapy BSc (Hons)
OVERVIEW
This course runs in 2017/18. 
Occupational Therapists work with people of all ages with mental, physical and social difficulties. This course will enable you to develop the necessary skills to support these people in leading healthy and fulfilling lives.
WHY CHOOSE THIS COURSE?
Upon successful completion of your course, you are eligible to apply to practise as an evidence-based, autonomous occupational therapist. This course is designed to enable you to develop a variety of skills to work with people across a variety of contexts. These skills include: communication, therapeutic interventions and entrepreneurship.
If you choose this course you may benefit from:
a huge variety of placement experiences. Practice placement marks can contribute to your final degree classification;
our strong links with a wide range of local health trusts, social services, private health, charitable and voluntary organisations who provide practice development activities;
option modules at Level 3 to allow specialism for future career and further enhance employability;
a commitment to working in partnership with students to continually develop and
further enhance the programme which has been running for over 25 years;
Accreditation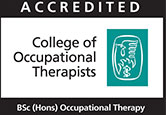 Accreditations shall be renewed in accordance with the accreditors standard review process and subject to the University maintaining the same high standards of course delivery.
WHAT WILL I LEARN?
The course has been designed to provide a practical-focused approach for the personal and professional development of occupational therapists. It will be underpinned by the principles of empowerment, self-awareness and individual responsibility in order to prepare you to work within changing health and social care environments.
HOW WILL THIS COURSE BE TAUGHT?
There are three full-time practice placements, which are fully integrated into the programme. They provide opportunities for you to develop professional competence, and also a professional identity in a range of health and social care settings.
To support our enquiry and problem-based approach the main teaching methods that we use are workshops, interactive seminars, lectures, practice placements and online discussions.
4th
Our Occupational Therapy course is ranked 4th by Complete University Guide 2018
HOW WILL I BE ASSESSED?
An estimated percentage breakdown of how your final grade is assessed is as follows:
placements 30%;
coursework, tests, essays 30%;
group work 20%;
practical or project work 10%;
presentations, posters 10%.
The Add+vantage Programme is not applicable to this course.
TEACHING CONTACT HOURS
In a typical week you will have up to 25 contact hours of teaching and this will break down as:
Personal tutorial/small group teaching: 7 hours of individual guided study sessions each week;
Medium-group teaching: 4-6 hours of practical sessions, workshops or seminars each week;
Large-group teaching: 12 hours of seminars and workshops each week;
Personal study: 10-14 hours of studying in small groups or on your own each week.
Entry Requirements
Essential Entry Requirements
5 GCSEs at grade A*-C including English Language and Mathematics, or specified equivalents. Evidence of recent study is desirable.
Typical Offers 
A-Levels: BBC, which excludes General Studies.
BTEC Level 3 Extended Diploma: DDM in a Health related subject.
Access: The Access Diploma in a Health related subject to include 36 Level 3 credits at Merit or Distinction.
International Baccalaureate Diploma: 29 to include 16 at Higher.
Find out more about acceptable equivalent qualifications here.
Work Experience: A minimum of 2 days shadowing an occupational therapist.
Additional Information: Applicants will be required to attend a selection process. All offers are subject to satisfactory health clearance, disclosure and barring service/criminal conviction checks and a successful interview.
In line with the National Health Service constitution we use a values-based recruitment approach in seeking candidates with the appropriate values to support effective team working in delivering excellent patient care.
FEES AND FUNDING
Funding for health professional courses is changing – to keep up to date with developments please visit the Funding Clinic website.
HOW TO APPLY
To apply for this as a full-time course, click on the Apply For This Course button above.
How will this course enhance my career prospects?
The expanding role of occupational therapists, in both health and social care settings, offers a range of career pathways. The School has an excellent graduate employment profile in a variety of settings. The practice placements help to ensure you have the knowledge and practical expertise required by potential employers.
Coventry University is committed to preparing you for your future career and giving you a competitive edge in the graduate job market. The University's Careers and Employability team provide a wide range of support services to help you plan and prepare for your career.
The Faculty of Health and Life Sciences' own Employability and Placements Unit can help you to find suitable work placements and give you advice on how to get the most out of them.
OPPORTUNITIES FOR AN INTERNATIONAL EXPERIENCE
The course is designed to ensure a global perspective is encouraged in all aspects of occupational therapy study and practice. The School is keen to explore and develop links with international partners.
Examples of current international partnerships include:
PXL University, Belgium;
Oulu University, Finland;
University of Malta;
and the University of Cape Town.